Steampunk Lamp
Do it yourself with DecorationY, a steampunk lamp to add the final touch to your one of its kind steampunk house decoration. This unique design style allows homeowners to use their imagination and creativity. By collecting vintage pieces together, this special decoration style gives your house a different taste.
In order to complete the decoration, you'll need the convenient lighting suiting your steampunk decor. At this point, can always choose one of two ways to get the proper steampunk lamps you need. Either you buy your lighting from Ikea or the nearest local store or just do it yourself, I highly recommend you DIY at least one steampunk lamp on your own. For you don't wanna miss all the fun about DIY steampunk decor ideas.
If you decided to use the first way and want to buy the lamp you will sure find it at antique stores. But if you decided to go the other way and make it by yourself, our special team of design experts is always on service! and you can read more about living room lighting ideas that can make your interior design amazing!
Steampunk lamp parts
At this point, to find the perfect parts for your steampunk lamp it will require you a small trip to the local hardware store! This is where you can find all the tools you need in one place – to keep the process going easy and breezy.
You will need a wood plank to use it as a base for the lamp.
Copper pipes.
Some of the hex nuts and nylon insert lock nuts.
Some Copper Fittings and esters.
Electric wires.
On and off switch key.
Some brass fittings.
Lamp Pipes.
Phillips-head screws.
Some head screws.
Bronze paint spray. – as you like
There is a variety of steampunk lamp styles, let the staff know what kind of lamps you're willing to make and they'll give you the required amount of the essential tools.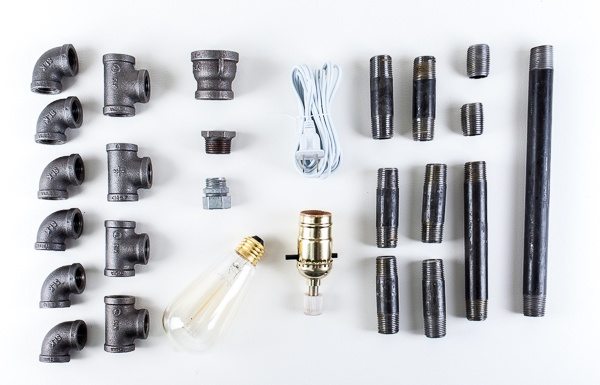 DIY steampunk lamp
Copper pipes and fittings are the basic Steampunk lamp materials but you can always use any kind of pipes from the plumbing department, and the paint will change its look as magic and works perfectly as kitchen lighting ideas.
Try different arrangements till you find the ideal style for your project.
Fed the lamp cord through the pipes before attaching them to each other.
Cut four holes in the wooden board corners to install the base feet and one hole in the middle for the lamp.
Use four galvanized pipe caps as feet for the wooden base.
Install the lamp on the base using the screws.
Hook up the switch key.
Screw the bulb and attached to the brass.
Spray the bronze paint on the lamp.
Now you have a new vanity lamp added to your home decoration and you've done it yourself, after all, DIY is what we live for! right? Now go ahead and proudly show off with your friends and family about these brilliant ideas you find in DecorationY!
Steampunk lamp shade
The steampunk lamp shades give great light effects whether it was in one corner or in multiple corners. Knowing that a lampshade is a luminous electric lamp surrounded by a metal frame covered with fabrics, leather, paper or plastic. It's a wonderful lighting & decorating method if you're not really into the steampunk pipe lamps. The existence of this steampunk lamp shade in your home will add elegance and richness to its design and will give your home a cozy effect. Watch this tutorial to make your own lampshade.
Watch This video to know more about how to make steampunk lamp easily.