Using these recreational room ideas will help you change the current empty room into a place with a lot of life. The empty room could be an extra small room, underground basement, or even an attic! transforming such a room into a recreational room will make the stay at your home really fun!
Rec Room Ideas
Do you have an empty room at your home? Have you thought a long time about how to make better use of that room? Here we are going to give you a few recreational room ideas to convert your empty room and transform it into a nice recreational room.
Playing is fantastic at any age, so, you can simply use some of those recreational room ideas and begin the fun. Depending on the space available you may add a pool table, ping pong, a football table or something that allows you to do one of the most recreational activities which will help you to change your mood. A basement can also be converted into the large recreational room of the house.
Maybe the basement has a much larger area than any room on the upper floors, as there are no partitions and only structural pillars. If so, it can be transformed into a large recreational room for family or friends to meet, with the warmth and intimacy that a meeting in an underground room always provides.
Another option to add to your recreational room in a large basement is to transform it into an attractive multimedia room. Such a room will be a paradise for audiovisual devices and for people who like to enjoy cinema, music or interactive games. It's like having a recreational room at home, but with the enormous advantage which you feel with as if you ware diving deep in the fun.
Flooring ideas for recreational room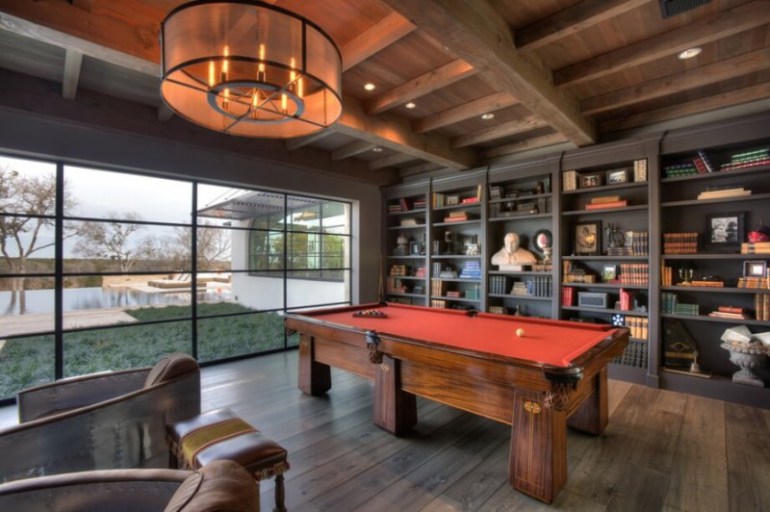 It is possible that we are not completely aware of how important the floor is in our daily life and in the design of the house. You always have to ask yourself what style you want for the recreational room, and what kind of floor is going to help you achieve that general effect. I think the best of the flooring ideas for a recreational room is the parquet flooring.
The design of parquet flooring may vary because these pieces of wood come in different sizes and geometric shapes these pieces of wood that are placed next to each other to form a pattern. Perhaps they are not very resistant because they are susceptible to scratches and bumps, but they can be easily repaired.
Because it is a natural element it has a very elegant appearance that makes it perfect for the recreational room. And there is an extra advantage that it offers, a natural and unique smell that will leave a pleasant memory in you and in your guests.
Rec room ideas on a budget
Having fun does not need to pay so much money so, you can enjoy your time at home with some of the rec room ideas on a budget. a dart board, playing cards, board games are the most successful games in the category of rec room ideas on a budget. But if the budget allows you, you can also set up a home theater, with giant screen or video projector and very comfortable armchairs or sofas.
Rec room decorating ideas
As part of the rec room decorating ideas, you could install a home bar, snack corner, a pool table or a plasma TV. And for the walls, you can opt for using a large poster on one of the walls and paint the other walls with the same colors of the poster. Or you can pick a theme as a base for the decoration and then, complete the decor using matching items. Furthermore, you can install many of new ceiling lights. So you will have a lot of fun with your friends in your recreational room at your own home.
Rec room furniture ideas
Recreational room is made to have fun in it, so the rec room furniture ideas used in the room must provide comfort and refreshing feel when used. So, when you choose the furniture you must opt for the pieces that are simple and cozy.
Also, the easy to clean furniture is the best for such a room. You can eat, drink, and play, without worrying about the time and effort that you will spend in cleaning after that. The most important idea from the past recreational room ideas is the one that inspires you to have whatever makes you happy in the room and then it will be the best recreational room ever.
Summary
Reviewer
Review Date
Reviewed Item
Author Rating