DIY Rugs
It's not easy to make a home decor decision, but DIY rugs? I guess that'll never disappoint you.
You know just how a rug can brighten up or change the entire look of a space. We mostly tend only to like colorful and cheerful rugs, but we end up buying the darker ones that won't get dirty and stained fast. However, we're now thinking on a new level. Why buy rugs in the first space when you can DIY your favorite rag rug or braided ones in easy steps? And for the stains, just put your rug in the washer and have nothing to worry about!
This pretty DIY rug is easy and without spending a penny. DIY your old T-shirts into a beautiful rug like this one. Keep on reading the below tutorials to know how to DIY your own rag or braided rugs to give a unique look to your place.
Rag Rugs DIY
Since DIY rugs are quite common these days and getting more trendy every day. We need to look further on the coolest and cozier styles to DIY. For a DIY lover like me, whatever the process takes long it'll always be joyful as I'm crafting something new by my own hands. But for a newbie to DIYing, it might take some effort. However, rag rugs happen to be very easy to DIY. And so, we'll provide step by step tutorial on how to DIY rag rugs.
To make this colorful fabric rag rug below:
You'll need:
1″ x 5″ strips of fabric
Non-skid rug
latch hook tool if you need one
This might be the easiest tutorial ever:
Braided Rugs DIY
Braided rugs can be made of old fabrics or T-shirts. As long as the colors vary, it'll give more texture and color to your room. DIYing a braided rug could take effort and time, but if your hands can easily braid and sew fast, then it won't take you more than a week to finish this one. Now, the requirements that'll take you to make your own braided rug are:
Long fabrics or T-shirts
Sewing scissors
A ruler
Pins
Safety pins
Sewing needle
Thread. Pick a neutral color to the fabrics/T-shirts colors you're using.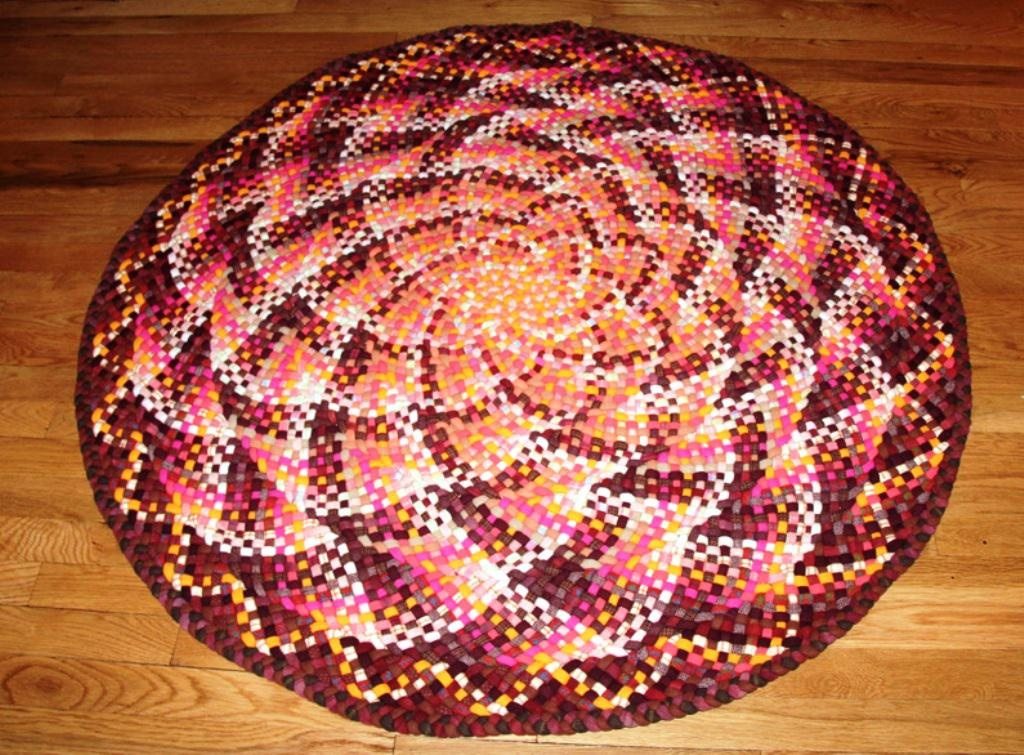 Before we start, I need you to consider the place where you'll put the rug so that you dedicate the size you want it. If it's in the kitchen you might think of a rectangular shape, that's a good start for a kitchen area rug. If it's in a bedroom, perhaps a round rug would fit the need. And round is what we're going to DIY today.
Now the steps:
You need to cut long strips of the fabrics or T-shirts you wanna use. It's preferable to make them equal in width and length.
Once we have a big pile of fabric strips, split them into three equal balls. You'll make each ball a long continuous strand by overlapping and sewing each strip ends together.
Now you have six ends for three balls, we need them only three from one side. So grab one end from each ball, overlap and sew.
Use the safety pin & pin that end to a couch or some base that'll hold it for you until you finish braiding.
For a square shaped rug, you should lay the braids side by side and sew instead of rolling them.
After you finish braiding, you'll

roll 

the end of it to make it look like a snail shell.
Finally, start rolling and pinning everything together before sewing those curls into place and tuck the last bit under the rug.