DIY Jewelry Organizer Ideas
Browse these beautiful DIY Jewelry Organizer, box & holder Step-By-Step Tutorials to get inspired with these jewelry display ideas work great as a gift or room decor.
There are a lot of DIY jewelry organizer ideas like the corkboard, cardboard, clutch, cabinets, closet, and drawers, but after all, that best thing you may do, Is doing it yourself. Because of It`s exciting to do-it-yourself and the allowance of adding your own style and favorite colors & shapes and make it consistent with your bedroom style.
DIY Jewelry Organizer tutorials
Through we will show you amazing DIY Jewelry Box Ideas Collected Decoration Y Blog, We will help you to make your dreamy bedroom. Take a look at this collection of best, easy and beautiful jewelry boxes ideas and simple step by step tutorials.
DIY Jewelry Box
As Val Caci: the owner of this design shows that you can use recycled materials to make jewelry organizer on a budget and you can give to for a friend as a beautiful gift or for your room to organized your studded earrings and jewelry.
Jewelry Holder tutorial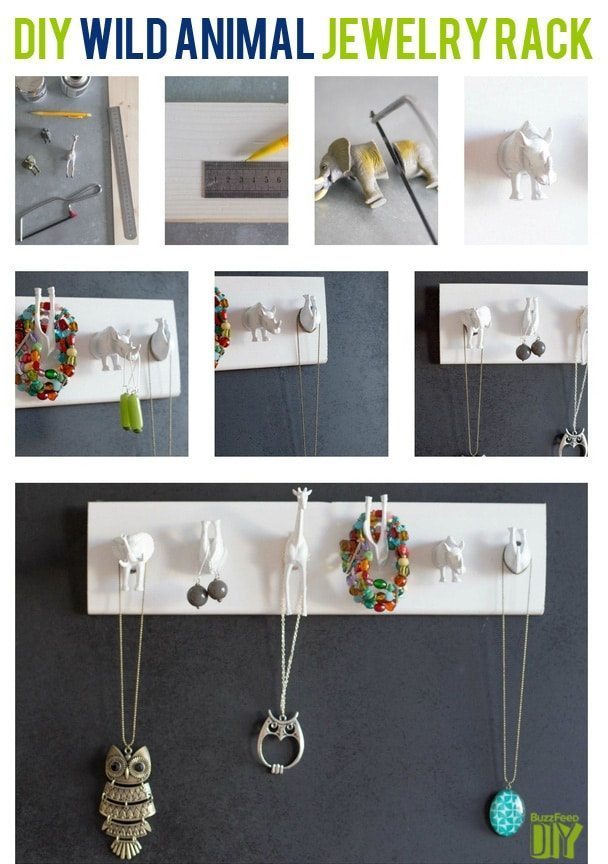 Requirements:
Wooden Plank, You can get one ( Buy Here )
High-Quality & Cheap Glue ( Buy Here )
Plastic Animal Toys ( Buy Here )
Little Handsaw  ( Buy Here )
White Spray Paint ( Buy Here )
a Ruler & Pencil
How To Make a Jewelry Holder
Use the Pencil to Draw a line in the middle of the wooden plank to target where to place your animal toys.
Cut Plastic pet toys in the midst with the handsaw.
Then, Use glue to stick the halved animal toys on the wooden plank's line you drawn.
Finally, Use the white spray paint on the holder to make it beautiful and straightforward.
Jewelry Organizer Storage Box
DIY a wooden jewelry box easily with this tutorial without spent a lot of money to buy new on or if you want to give your friend a gift that she can't forget.
Ring Cones
Beautiful homemade ring cones a nice touch for gifts and budget-friendly easy to customize and add your own touches & styles.
DIY Earring Holder
Give your earrings a place where they can dangle freely in your room as a beautiful decor art, credit to bee-inspired.
DIY Jewelry Storage
This jewelry storage box tutorial work fine with a bracelet or watch. you can easily do it yourself with friendly-budget.
Branch Necklace Holder
Add a nature-inspired display with a branch comes with a colorfully painted vase to work as a great necklace holder.This tutorial comes with inspiration necklace holder that you can do it yourself easily without spending a lot of money. You can make this beautiful necklace holder to gift friend or as a decoration for your room.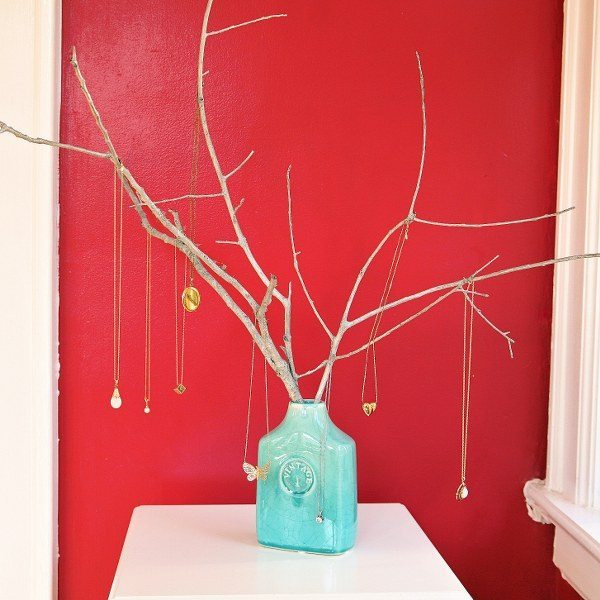 Chicken wire jewelry hanger
Use this cozy DIY jewelry frame to display your jewelry in a beautiful frame on a budget. It will work great as a wall decor.