Decorating Christmas Tree With Popcorn
Today you are going to learn a really fancy popcorn decoration trick that I find mind-blowing! Obviously, the holidays are coming up &you want to have a cool new idea for decoration.
Adding popcorn decoration garlands to your Christmas tree is one of the most budget-friendly and easiest things you can do. Moreover, you don't want to miss the yuletide spirit and fun with your entire friends and family.
You'll be surprised to how children will react to this popcorn decoration on the Christmas tree! You can even allow your kids to make them with you and have a healthy snack at the same time.
So, how can you make popcorn garlands for your Christmas tree?
Christmas Tree Popcorn Decoration:
You'll only go through 7 easy steps to create a perfectly decorated Christmas tree with popcorn garlands.
7 steps for Christmas tree popcorn decoration:
Prepare your popcorn.
Choosing the best ones.
Patience.
Choose your thread.
Stringing your popcorn.
Secure the finished garland.
Popcorn decoration time.
It'll only take 7 steps to get an exciting popcorn decoration on your tree!
Let's get started…
1. Prepare Your Popcorn:
So, first thing is first, you need to pop some kernels however you prefer. You can use any type of popcorn poppers to prepare your popcorn. There is no specific way to make your popcorn decoration.
Of course, you don't have to add any salt or butter (unless you want to have some for snack! LOL)
Air-popped kernels work best for this decoration.
How much popcorn will you need?
1 cup of unpopped kernels is enough for a 3-4 feet thread.
Bonus Tip.1:
In case you are going to use the pan to pop your corns, add some oil to help you cook the corn. Also, after you're done, get a paper towel-lined plate or bowl and add your popcorn in it to prevent from getting soggy.
Are you in a hurry and want to cook popcorn quickly?
Use pre-popped bag or the microwave to get this step over with quickly.
2. Choosing The Best Ones:
After your popcorn is ready and cools down, it's time to inspect it. You need to choose the best popcorn that you're going to use for your popcorn decoration quest!
So, if any popcorn got burnt up, set them aside and any broken or misshaped one. But, don't the misshaped or broken popcorn, enjoy eating them. Just choose the flowery looking popcorn to have a nice looking garland.
3. Patience:
I know how excited you are to get your popcorn decoration done! Believe I was, but let me share my experience with you.
It's better to leave the popcorn for 1-2 days because fresh popcorn tends to break quickly. By being patient, you'll have less brittle popcorn and you can string them easily.
Bonus Tip.2:
If you want a more Christmasy look, then it's a fabulous idea to color the popcorn after the 1-2 days of waiting. You can use powdered food coloring for outstanding popcorn decoration garlands.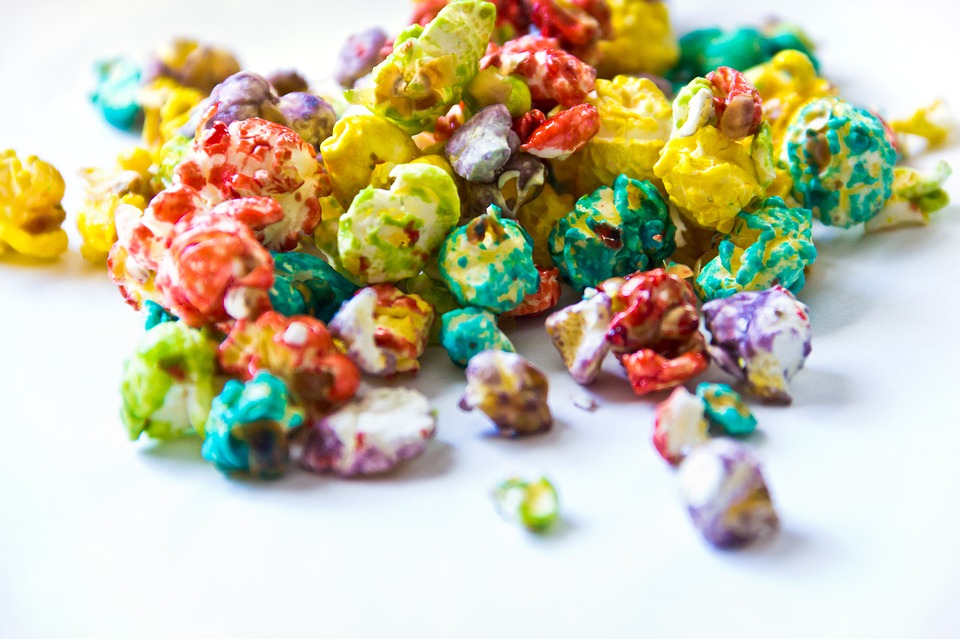 You can choose the traditional green and red Christmas colors, or choose any color of your own.
4.      Choose Your Thread:
The first most important thing to consider when choosing your thread is that it has to be sturdy. If you have some heavy embroidery floss around, that will be amazing because they come in several colors and are strong.
It's even better when you have a fishing line which is even stronger and has a transparent color that won't show if there were any gaps in the garlands.
The second most important thing to consider is the length of the thread and it should be longer than 5 feet. But, you'd better that you leave the thread attached to its spool. Just do what you have to do to make sure that the thread fits your popcorn decoration garlands.
The last thing is threading the needle and it's best to find a thin needle to string through the popcorn. Don't forget to make a knot at the end of the thread to avoid the popcorn from falling off as you string off.
5.      Stringing Your Popcorn:
Now, here's where all the work comes in where you have to string the popcorn through the center and pull the end of the thread.
Keep on adding one popcorn after the other until your popcorn decoration garland thread is full!Push the popcorn closely together as you possibly can to get a good-looking garland.
Bonus Tip.3:
Get creative and mix popcorns with cranberries, lemon, dried orange, cinnamon sticks or dried lemons. Also, you sprinkle some glitter on it or spray some colors.
6.      Secure The Finished Garland:
This seems like a pretty logical step, but people tend to forget as they finish the garland and get all excited! Just make sure you secure the thread after filling the thread with popcorn.
Finally,
7.      Popcorn Decoration Time:
Victory! This will be your favorite part after finishing the popcorn decoration garlands, you'll love how amazing they look!
After decorating your Christmas tree with lights, get creative & decorate with your popcorn garlands. You can make the popcorn garlands look elegantly set on the tree or spread them around casually!
It's your Christmas tree, so enjoy decorating in a way that represents your style and personality.
Merry Christmas to all of you, hope you enjoyed our popcorn decoration idea for your Christmas tree! Share this with family and friends, and share with us in the comments your experience with this DIY. Cheers!