DIY dog bed
Find out how to DIY dog bed easy & beautiful. The Pet beds are not hard to do it yourself, follow these ideas and add your own style.
The things you need to give your a best friend are just a little love, care, and security. That's what makes your dog happy and grateful for you all the time. Dogs give love without any conditions and their love lasts forever. So, as a way of change. Why not pamper your dog by giving him a unique bed that's not found anywhere? You can DIY your own special and cheap dog bed. We did the research for you and we managed to get the best DIY dog bed ideas collection only for you. Cute and adorable pet beds ideas.
To get a simple DIY dog bed, you can remove the wheels and axles from an old wagon and place inside a fluffy pillow with a pet-friendly fabric. Don't forget to place adhesive strips on the bottom to prevent the bed scratching the floor.
Turn an old suitcase to travel bed by using a vintage handbag and place inside it a soft cushion to have a new and comfortable bed to your dog.
You can turn a retro console into a bed for your dog by placing a soft below inside it.
Use an old wooden box for milk and turn it into a special bed for your dog by adding some cushions and a pillow.
You can also use an old drawer after you paint it and add some cushions and a pillow inside as a new bed for your puppy.
DIY large dog bed
The size of the dog really matters when trying to make a bed for him. It is easier to build beds for dogs of small size or breed, but don't worry we also have pleasant options for large dogs.
You could use a disused large sweater to make a dog bed, by adding padding, of reused clothes, or use an old cushion that suits the size of the dog. Make it fit into the filler and the excess fabric can be cut, be careful to sew the edges well to avoid fraying.
You can use your closet to give your dog a place to stay in if you remove the drawers and place some cushions inside.
DIY pallet dog bed
Pallet furniture is used in many homes lately. so if you want to try something new for your dog we recommend the pallet bed, which is new, fits any place and not expensive.
A pallet bed is a favorite bed for most dogs and homeowners as well! Not only for it's easy to DIY and less messy for homeowners; we also got many feedbacks that dogs favorited the pallet bed over an ordinary pillow bed.
The first step to DIY a pallet dog bed is to buy a pallet from a hardware store.
Next, cut the pallet on the sides, place additional boards between the gaps.
Now, add wooden boards as sides, fasten the sides with nails.
Paint the bed with your dog's favorite color, then place the cushions inside.
Now you have a new pallet bed for your dog. It wasn't so hard to do it yourself, after all, was it?
Raised dog bed
The raised DIY dog bed is the ideal way in both ways, by keeping your dogs off of the cold floor, and by allowing air to circulate under them. It is really easy to clean and dogs like this kind of beds!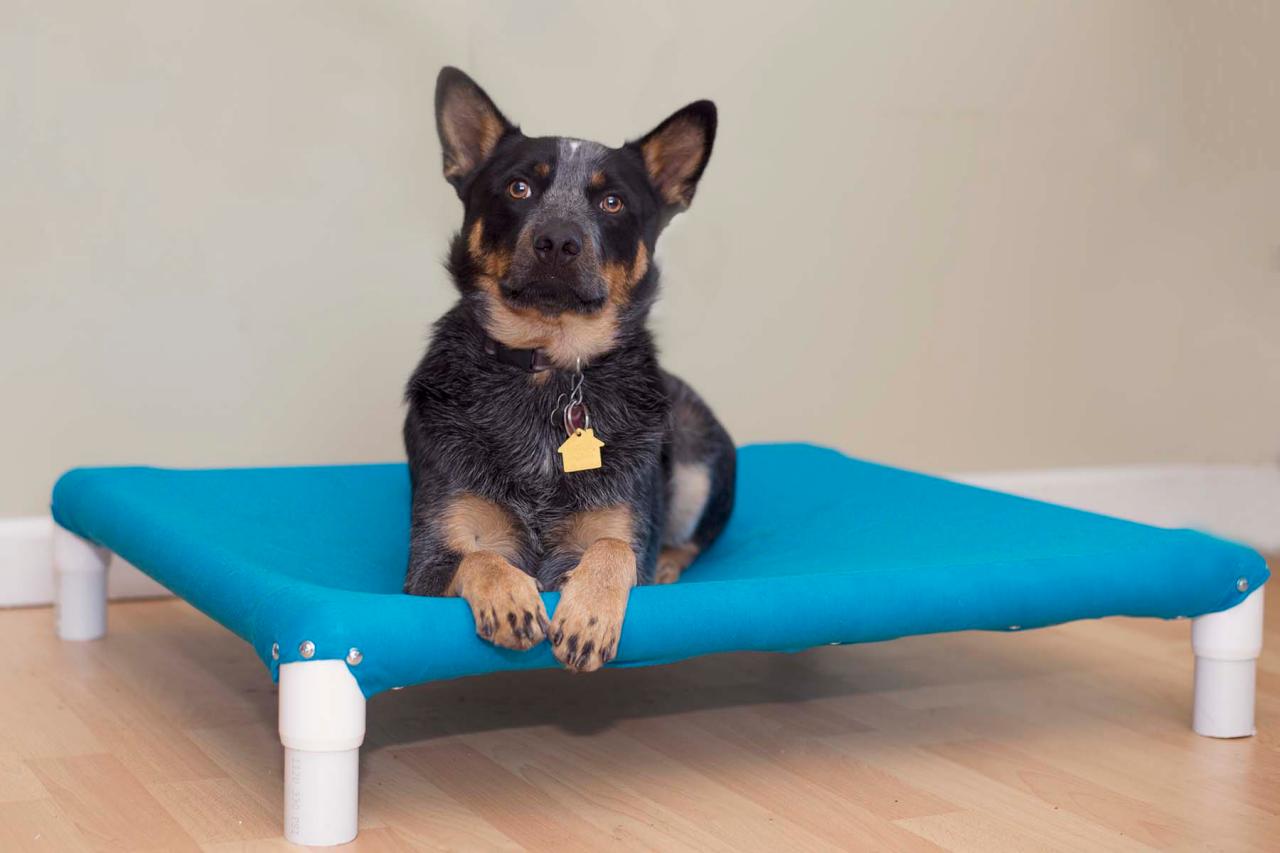 To make a raised DIY dog bed with PVC pipes follow this easy tutorial steps. The required materials are Four PVC pipe, four corner pieces, water resistant fabrics, cordless drill, screwdriver, and some screws. Watch the video below for full steps.
Many people can't tell the difference between Elevated & Raised dog beds. I'll tell you, the answer is: they are the same. We just call them different names to differentiate them. If you say raised dog bed it could mean two things, raised with PVC pipes or raised with stairs… Same meaning if you alternate raised with elevated!
DIY elevated dog bed
A modern dog bed styles are now being used. Some of them are probably not expected, like this elevated with stairs dog bed. However, this style cannot be compared to the memory foam bed!
Memory foam dog bed
Memory Foam was originally created by NASA as a material to help astronauts cope with pressure during takeoff. In a short time, it came to market in the form of mattresses and mattress covers and was an immediate success. The memory foam conforms to the shape of the body. You can easily find a memory foam dog bed online at big stores. This is the ideal way to give your dog a perfect bed and a perfect sleep!
Large dog bed
Large dogs usually suffer from having a place that is really comfortable for them. Use your creativity and enjoy creating a large DIY dog bed of wood that is no longer useful for recycling and transforms it into simple and rustic beds. Or you can use an old TVs stand to make a creative dog bed. If you live in small spaces, a large retractable bed that can be used only at bedtimes may be a solution to your problem.
Washable dog bed
Water resistant fabrics are the best to use in the dog bed. it is easy to clean, resistant to stains and washable. These fabrics come in many colors and can be used in all dog beds types & styles. It is also not very expensive and it is easy to find at big stores.
Round dog bed
Dog beds tend increasingly to become unique pieces of decoration. Reuse, recycle could make your dog bed a beautiful piece of art in your home. if you want to have a round dog bed you can use half a barrel as a bed after you add decorations of your choice and place some cushions inside. You could also use a car or motorcycle tires to have around bed after you paint it with your favorite color and add a cushion inside.
Give those brilliant DIY dog bed styles a try and change his life forever! You can also check dogblow.com for more getting ideas of more dog supplies. Tell us now which bed style you like the most? and what are your thoughts about the rest of them?!