Victorian bedroom Furniture Sets & Decor Ideas
The Victorian bedroom style is old; we first saw it in the nineteenth century England, during the early Victorian era. It was designed and made with the simple comfort for the user. Although it is very old style it is timeless.
This unique style could add a luxury feeling in the bedroom, an imperishable romance, and will make you discover the charm of the antique furniture. This is admirable in terms of how long it already exists in design history. This is actually the same interior design style adopted in Donald Trumps House!
The most chosen wood for this style is the mahogany and rosewood, as well as the oak wood. The use of iron also took place in the early Victorian era, especially in Victorian bedroom furniture.
The classic Victorian bedroom styles differs from the modern,
Victorian style achieves a more up-to-date effect through the choice of textiles and patterns.
It Has much more modern character than those that were formerly produced.
Also Uses modern textiles which are usually more comfortable, easier to care for, healthier, even if they are used longer.
At the same time, they provide an up-to-date atmosphere, which contributes to the fact that your Victorian bedroom furniture is well inscribed in your modern furnished home.
Victorian bedroom furniture
Victorian bedroom usually has many classic features such as graceful frames and ornaments on the ceiling. If you do not have this in the bedroom, you can easily mimic a Victorian bedroom with beautiful linens, ornamental chairs, and accessories.
You can combine classic elements with modern pieces to get your unique bedroom and feel the nobility. Wardrobe, Toilet Panel, Toilet Mirror, Chiffonier, Upholstered Bed, Upholstered Headboard Comodin (Right and Left), Bed, Headboard, Puff, Marquise are the most elements that show the spirit of the Victorian era in your bedroom. The twin bed headers, leather caption upholstery, and quilts decorated with stone and special lighting are also used in this style.
Dark Victorian bedroom
Victorian decorations create a sense of wealth and romance. The style is rich, colorful and full of detail that contrasts sharply with other styles. The bedroom is the ideal room in the house to use the whimsical and romantic Victorian style.
Dark, rich wooden furniture usually decorates the Victorian style.
Choose pieces with graceful and intricate engravings for decorating the bedroom.
Massive heavy furniture gives the Victorian bedroom the appearance of luxury.
The large bed with carved headboard and footboard makes a central point for the decor.
You will need numerous accessories to decorate the shelves, bedside tables, dressers and any available surface.

source: lux hotel

Fill shelves with figurines, graceful photo frames, decorate glass bowls and vases with a Victorian flavor. Decorate the walls with oil paintings of flowers, and nature.
Candles provide dim romantic lighting for the bedroom as well. Decorate the bed with lots of pillows in floral patterns and soft lace fabrics.
Deep colors, rich shades of red and maroon as well as dark shades of green, blue and purple are works well and helps accentuate the dark wood in the of bedroom furniture.
Victorian bedroom sets
Victorian Bed
Bedding and pillows are easy to choose, try a cotton quilt or blanket in colors like cream, light green, and pink for summer. Relate to the bed with a warm feather down blanket in winter. Cover the fixing blanket with a washable duvet cover in pattern paisley fabric in colors such as burgundy, navy blue and green of the hunter. Decorate with different sized pillows.
Victorian Curtains
Victorian window coverings have been designed to don't allow the sunshine. Decorate the windows with different layers of curtains, a light material such as lace, white cotton or mousseline and a heavier curtain in velvet or taffeta. Try for a heavy curtain material in a dark color, with a thin, pure second layer of a window that offers privacy but leaves the light.
Victorian Cabinets
Cabinets were rare during Victorian times, so the beautiful wooden storage cabinets and armchairs were used for clothes and blankets.
Accessories
Accessories are an important part of Victorian decorations. If possible, use oriental carpets, framed black and white photos, lace doilies and choose lamps in steel with cream-colored or glass shades.
Paint
Choose soft shades of colors like pastels. If you prefer natural colors, choose warm brown, burgundy, and creams. Lace and velvet are also good materials for this style.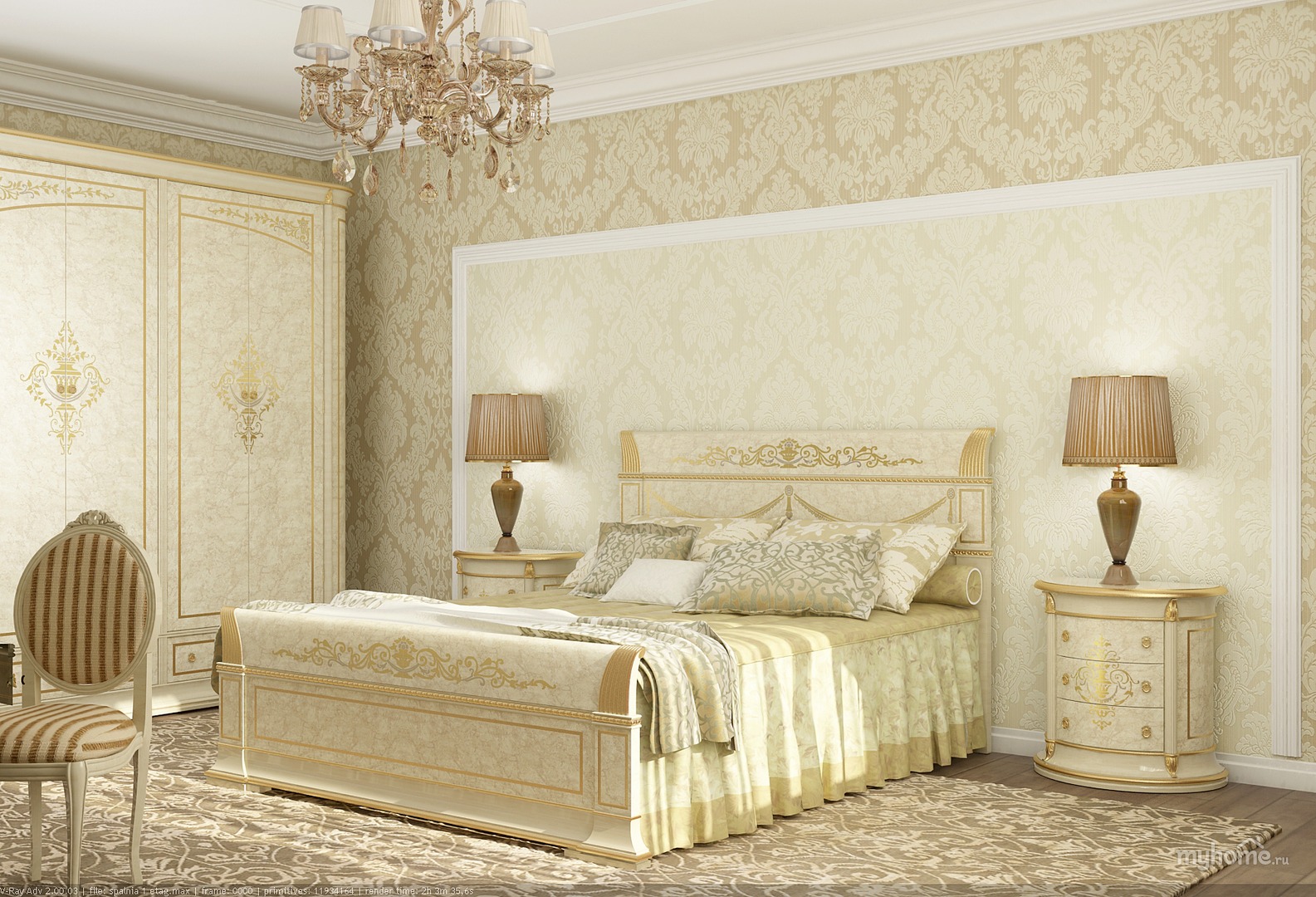 Victorian Master Bedroom
Victorian bedrooms mirror the style of the rest of the house with fabrics, furnishings, and carpeting.
The furniture is consisting of a bed, dresser, closet, and table with chairs. The bedroom could also be equipped with a couch and armchairs and rocking chairs.
Wallpaper with heavy patterns including flowers designs, pink, blue, red, green and gold are popular colors during the Victorian era. If patterns are too much for you, consider painting the walls in a soft tint, such as pink, blue or ivory. Cover a wall with a simple slider or damask pattern.
Victorian beds usually have complicated hand-carved wooden head and decorative awnings. Set a graceful bed against a full wall, if possible. Wrought iron or brass beds also complement Victorian decor.
Dark, cherry or mahogany wood is a typical example of Victorian decor.
Carved wooden dressers, bedside tables and vanities with marble tops are ideal.
Put some pillows made from materials such as brocade, silk, and satin and embellished with lace, tassels and intricate needlepoint at the head of the Victorian bed.
Use bed sheets and pillowcases which are sewn from cotton or silk and trimmed with lace. Blankets made of cotton, linen or wool is the perfect match for this style.
Hang mirrors and image frames with gold or black frames on the walls.
Paintings, photographs, mirrors framed in an ornate intricate hand carved frames decorated with gold leaf are the best decor for the bedroom walls.
The lamps with shades of silk decorated with beads and tassels, or shades of stained glass are the best lighting for this style.
Victorian decor urged on dark woods, large furniture, and ornate decoration. The overall effect is a feminine but firm design. While it is a beautiful design style, there are elements that can feel outdated. Fortunately, it is possible to keep a Victorian style in the bedroom, but with more modern flair. Select only a few pieces of Victorian-style furniture, Paint the walls a light color, such as light pink or cream, use instead of heavy curtains, lace curtains.