Cardboard Furniture
One unusual trend these days is cardboard furniture. It may seem hard to imagine how could we use cardboard as furniture in our houses. But the thing is, the more layers it has the stronger it will be. Cardboard furniture is environmentally friendly, recyclable, and is cheaper than wood or plastic.
Take a look at this cardboard bookshelf. You can DIY anything you want out of cardboard without costing yourself a penny.
Cardboard furniture can have more benefits beyond the green movement. Instead of paying expensive fees for furniture transporting companies, cardboard has proven to be cheaper since you can transport it in a flat shape. Also, it weighs way less than traditional furniture. and if we make this list of best furniture brands to help you find the top furniture companies & stores.
DIY Cardboard Furniture
DIY your own bookshelf, office, and chair with thick cardboard to stand strong. Easily fix and repair any damaging way cheaper and effortless than any traditional furniture. And if you don't know cardboard material is spread everywhere so maybe that'll answer many questions.
Now if you are thinking to start a DIY cardboard project, you may need some help. How can you design it, and of course, the tools you will need to use in the process. It's better to start off with a small project as a beginner. Maybe DIY playful furniture for your kids, or a toys shelf that doesn't require much effort and cutting, a cardboard chair or a small table. However, you will learn how to DIY these things in this article.
Required tools:
Stationary knife
Scalpel or an electric jigsaw
Pencil
Ruler
Glue
Paper tape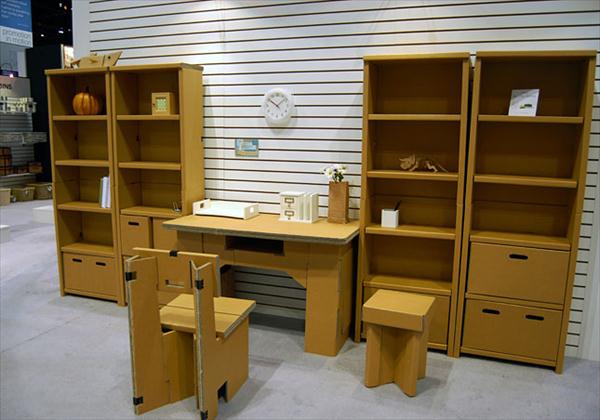 You can DIY a playhouse for your kids or a house for your cats! A chandelier that gives color and cuteness to your daughter's room is also a good project to start with.
Cardboard Chairs
Check out this DIY cardboard chair tutorial and tell me what you think. For more ideas see the gallery below!
Open a cardboard to flat and measure it, it should be at least 45-inch wide and 60-inch high.
Place it vertically. You want to use the bottom edge as the bottom side of a 45-inch and 15-inch high square.
What we'll do now is to draw the rectangle and dividing lines inside of it. So you want to draw 15-inch intervals that'll give you three 15-inch squares.
At this point, you gotta extend the lines of the middle square an additional 45 inches. So this one either is three 15-inch squares.
Draw a horizontal line at the top of the third square which should give you a final T shaped drawing out of six squares.
Now cut this shape and turn it upside down. There should be two squares crossing the T, you need to fold them back until they form a triangle by touching each other
This triangle you just made is your chair base and it should be sitting on the ground, so rotate your cardboard chair so it does.
Final two steps:
Fold down the sticking up cardboard. Your cardboard should stick right up, parallel with the ground and sits on the triangle. That square is the seat.
There still last two squares, you need to fold them at 90 degrees. Now you've done it right if they're sticking straight up.
Last step: Press on the top square. Secure the fold as much as you like and enjoy your seat!
Ask me for any questions!
Cardboard Cat Furniture
Cardboard cat furniture is the easiest and cutest alongside with the kids' playing houses. You can build a playing house for your kids that have a sleeping space for your kitties. Check out our gallery to get more ideas!