Sunken living room trends
Perhaps you think sunken living room ideas are outdated, but trends' chart has a different saying at that.
In case you haven't noticed, sunken living rooms remodeling has gotten more popular these days. Some might think we're getting back to the old ways people used to live, I used to think the same. But actually, there's another perspective to that. The new modern living styles demand a new remodeling and reusing of what might seem old and give it a whole modernist appeal. This is particularly in renovated homes where homeowners are looking for creative ideas to individualize their space.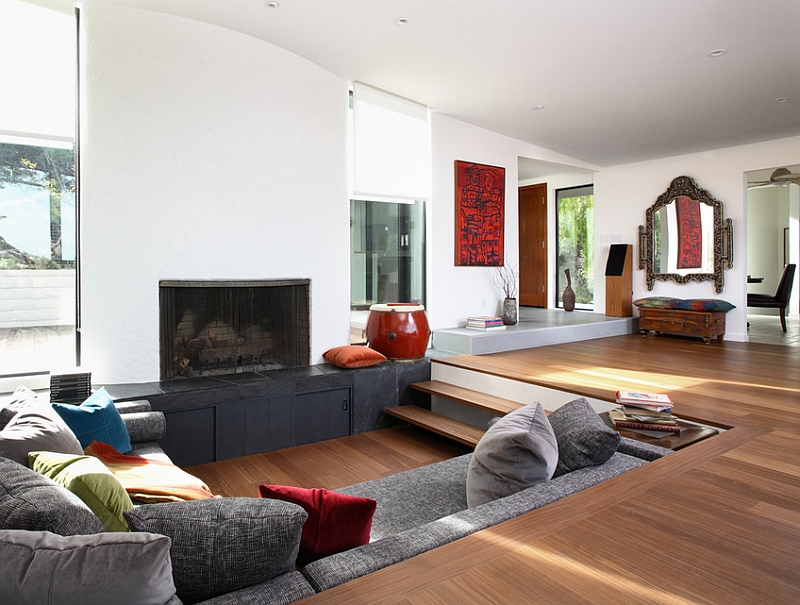 If you think about it, the living room renovation idea actually shows a great capacious and organized living space. In addition to, the coziness, durableness, and modernish look it forces into the place.
At the time sunken rooms came to light, it was widely adopted by Hollywood producers and famous celebrities as it was the most elegant and expensive design. But today we can see many things that once only belonged to the richest can be used by the public.
You'll mostly see this style adopted in split level houses. The entrances are usually located in the staircases and the rooms are at fairly walks away from each other.
Sunken room design ideas
Benefits of using sunken rooms:
While most of you will go to large spaces, wouldn't it be a great addition if you could go for large and divided space even so without walls? How large is that?
If you didn't know about sunken living rooms and you want to keep up with the trends of home design; you better follow our facebook page right away. We always inform our followers with the latest news on decoration trends. Make sure not to miss anything else!
1. No need for walls:
When did you see an open+large living room that was ugly? Probably never. And you know what, that's why designers call it Conversation Pits; those babies make a vast atmosphere for comfortable seating!
As you noticed in the pictures; rooms are divided with different lower and higher positions. The sunken living room, for example, is positioned lower than the dining room. Which by the way, makes an inviting appeal to the whole place.
2. Indoor or outdoor sunken designs:
Yes, I just said it; this design doesn't stand for indoors only. On the contrary, it could make a great backyard patio area. Hire your best contractor and begin building your sunken living room design.
3. Larger space, despite the small place:
The best thing I would grant to sunken living rooms is that they offer vastness and coziness in one place, which is a very rare dual in the industry of decoration. Even though your place might be small, a sunken living room design would make it bigger.
Follow our site for more ideas and suggestions for sunken rooms!