Closet organization
The closet room is not the place to store your clothes only in the bedroom or bathroom! Closet room need to enough space in the building, this room is the Kingdom of every lady and a good place to meet your needs and contains your unique fashion to look best. The closet room can be separate and could constitute an extension of the master bedroom or bathroom, and split form varies, depending on the geometry of the room.
If you plan to create and organize wardrobe shelves, clothes, and shoes, we show you our 10 tips that will help you be a closet organization to give your home more organized. And how to sort your clothes according to occasions such as sports, casual, and evening dressed to save time and effort and get an elegant, practical and useful room.

1. use feminine colors such as pink, Fuchsia, and Purple. but if you participate with your husband, you must choose the neutral colors such as white, black and beige.

2. avoid distribution the mirrors in a random manner because add mirrors correctly give effect to the shape of the room. Avoid placing two mirrors opposite each other, so don't take your only simply mirrors one long, surrounded by a decorative frame, stretching from the floor to high altitude to show you all the body parts and you look details.

3-split bookcase according to the number of things such as shoes, bags, and accessories. Etc. Where the number of closed cabinets or shelves or open or covered by a transparent glass facade and you can use separate wardrobe trunks and shoes.

4. distribution of luminance thoughtfully, as they play a critical role in organizing the locker room and highlight detail all. thbti ceiling lighting units above the locker. And do you omit to provide cupboards with lighting units also, avoid using white LED lighting, which gives the room a feeling of sadness and gloom. therefore, the preferred lighting that reflects natural light.

5. If the size of the room has a custom table for hairstyling, topped with a mirror surrounded by a dinky wooden frame.

6. put a "lounge chair" in the middle of the room under the chandelier directly.

7. Beware of putting the accessories in a random manner, you need to be calm, and visibility factors must be available in the locker room, with the possibility to decorate the table, if any, its bouquet of roses in a unique vase.

8. If your budget allows no shedding large crystal chandeliers to ceiling room your clothing, there is the most beautiful of the lintel of the Crystal to its impact on the design of the room, even if the standard room dimmed, a charming and elegant verdict that chandelier.

9. you can make your wardrobe more prominent and beautiful using a moving glass door to make a simple clear-cut design and simply enter the bright colors and strong in a few pieces up to this modern design.
10. to female closet organization clearly, there is nothing better than showing valuables brands on the shelves, simple design highlight the elegant pieces with spotlights highlight and add some accessories to explain to your taste and follow up of the fashion world, and the lights comes to complement the story.
Now review with you a variety of designs for a closet room with different styles ranging from modern and luxurious and practical, with some ideas to the closet organization, we wish that you like.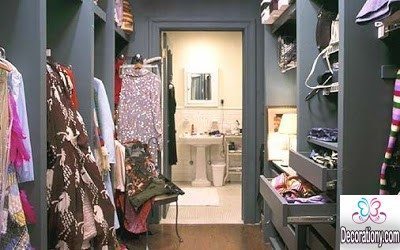 If you like our article and found useful ideas, you can share it with your friends and follow up all our new articles on our Facebook page
Closet organization tips