Dressing Table
Appearance is important to each woman. Sometimes they sit for hours in front of a mirror to get a perfect hairstyle or make a real masterpiece of her face. Men think that makeup lost time, but women see it something necessary attention to her appearance. There is almost nothing more important than making yourself more beautiful. In this sense, dressing table not underestimate.
The dressing table is an important bedroom furniture piece for jewelry and makeup tools So. We will provide you with the latest dressing table ideas to add more luxury & elegant for the bedroom. And this DIY Jewelry Organizer tutorials can be a beautiful decor for your bedroom.
the bedroom dressing table is your corner of every woman or girl, you always want to be distinctive and classy and reflects her personality too, you might think that narrow spaces only in their bedrooms hinder access to get unique bedroom interiors, but we can see together some smart touches in coordinating this corner to reach the best results. and If you like the classic interior design this Victorian bedroom design ideas will help you a lot to get inspiring.
So it depends only on the choice of design mirrors and dressing table ideas that suit the space of the room and fit the shape of the mirrors, also be with light colors does not even reflect the shortness of room space.
There are multiple makeup table designs and forms. There are classic makeup table designs suitable for classic and traditional bedrooms are predominantly of wood and Brown color. There is also a modern and stylish makeup table design with bright and stylish colors appropriate for teenage girls bedrooms be glass or other materials. There is also an elegant design & styles for room decorating ideas for teens.
You must provide enough lighting in the makeup table corner, To highlight this area in the bedroom and help you get a clear view during a make a makeup and your hairstyle.
for more explanation here is fantastic dressing table designs idea for this particular corner where you can find what you're looking for.
Dressing table design ideas: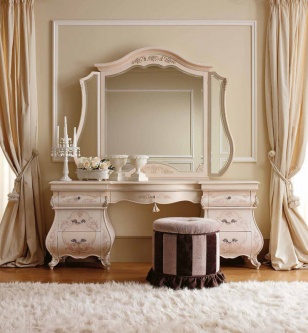 Please If you like this collection of designs and wish for more inspiration ideas you can support us with a like & share.