L shaped bunk beds
One of the most important features of the current era is the use of smart ideas that seek to provide spaces. L shaped bunk beds are one of the best space savers for bedrooms.
Using such ideas like l shaped bunk beds, bunk beds, loft bed, or bunk bed with desk could help all who seeks to have a well-organized home with enough space to enjoy the stay.
L shaped bunk beds was a very joyful idea for children's beds but, after some time the idea becomes a smart solution for adults who try to manage their life in small spaces. and you can explore this bunk beds design ideas you may get inspired to start remodeling yours or buying a ew one.
So, if you have kids and want to give them a special bedroom you can easily opt for one of the bunk beds ideas.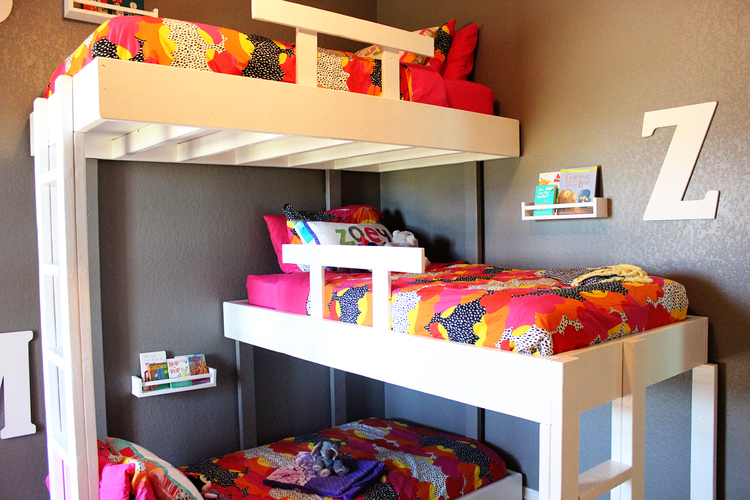 The creative bunk bed frames designs now can offer you the chance to save space with a joyful look for the bedroom.
Some of us did not prefer to have bunk beds for the kids as it was the kind of beds that the military use. So, some people used to think it refers to tough life and it does not have enough comfortable methods that exist in the ordinary beds. Lately, the creative designs of the bunk beds changed this idea into a loveable way of designing children's beds.
Bunk beds designs
Some designers went much further than using bunk beds for kids they have developed it into comfortable bunk beds not only for young children but also for all family members, including parents.
L shaped bunk beds design
Two or three comfortable beds, located one under the other could be saving living space by creating an L-shaped arrangement of beds relative to each other. Such a convenient design could easily fit into the corner of the room.
Bunk bed with a working area
This design gives the ability to use the bunk bed as a sleeping place combined with a working area where you can locate some furniture accessories for games, study, rest, or other things in the lower tier.
Bunk bed with a sofa
The possibility to use a bunk bed not only for sleep but also for daytime rest, easily transforming the bed in the lower tier into a comfortable sofa with a different degree of backrest inclination is one of the smart use ideas of the L shaped bunk beds.
Bunk beds with double bed below
Another design solution is the elegant L shaped bunk beds with the ability to push and pull the bottom of the lower bed, forming a full double bed below.
L-Shaped Bunk bed with desk
You can use this design to make the bedroom of your kids more practical. Adding a desk under the bunk bed will save the place to study. And if you want this idea to be more fun for your kids you can make them climb up to sleep and slide down to study.
Bunk bed with a playing area
Such beds can easily be turned into a place for games, it can be ordered in the style of a fairy-tale castle, magic house or a train, which will make children's rooms look unusual.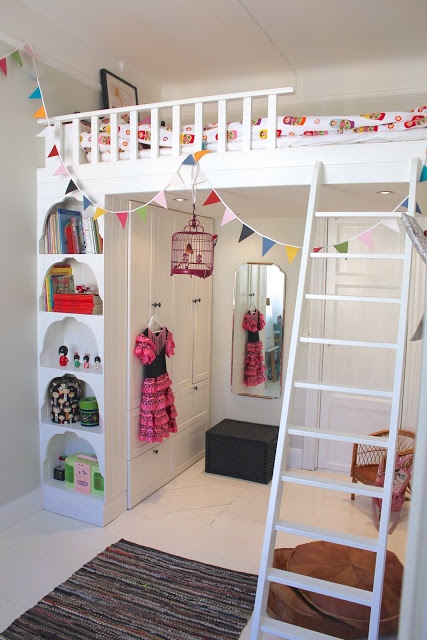 As already mentioned, with bunk beds there can be sports equipment like a climbing wall, a rope, gymnastic rings, a rope ladder, and sometimes slides.
This can be a part of the bed or additionally from it. In any case, such beds will cause delight to children who love sports.
More ideas
With L shaped bunk beds you can have many extras like stairs, lockers, shelves, or a desk. The most common bunk beds contained in some cases a place for storing children's things like storage boxes or drawers under the lower bed.
One of the smartest small walk-in closet ideas is to have one in the lower tier of a bunk bed.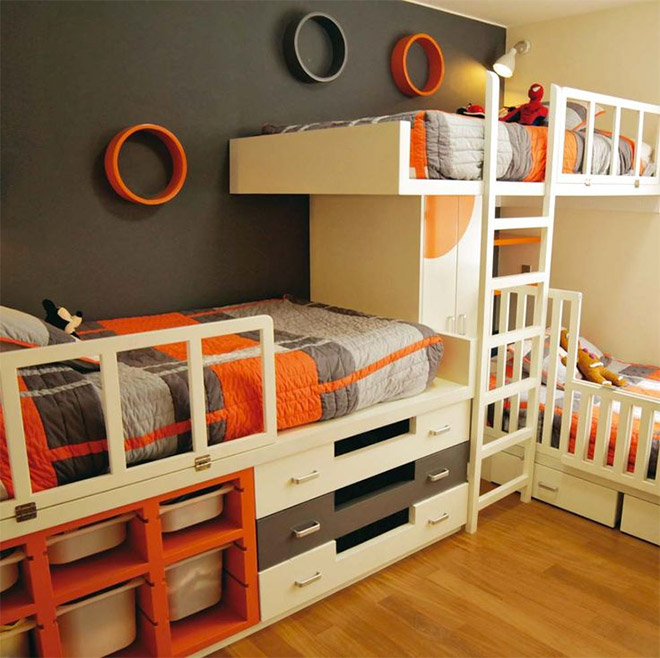 It is worthwhile to carefully calculate everything in order to have the best use of the space under the bunk bed.
Last tips
When choosing a bunk bed, you must take into account the safety of this type of bedroom furniture. it is necessary to make safety arrangement in the second tier, there should be safety border so that the child does not roll down during sleep.
It is also necessary to take into account the convenience of the staircase to the second level so that it will be safe when the child wants to climb.
it must be comfortable and, accordingly, safe. And one more important part of safety, as much as possible try to smooth elements on the bed corners to avoid the effects of impacts.