The fun does not depend on the age. You can always have a little of fun in your life if you decided to install a loft bed with slide in your bedroom. Believe me; you can easily consider having a loft bed with slide to change your lifestyle and to add some fun to it.
Loft bed with slide
I can really understand your fears of taking the decision of having a loft bed with slide. Do you think it is made only for young kids? here is the answer to your question, slides are not made only for kids, they are made to present fun to everyone that wants to have some so, why do not adults enjoy some of the fun that a loft bed with slide could offer.
Loft bed with slide for adults
If you are brave enough to have a loft bed with slide for adults in your bedroom we will sure give you some great ideas to help you make this decision.
Loft bed with slide and gym
If you are interested in having a good shape body, try to use your loft bed with slide for adults as a small Gym. And this will be easy if you replaced the stairs with climbing wall to get to the upper level then use the slide to begin an energetically day. Complete your small gym by adding sports types of equipment in the lower level of the loft bed.
Loft bed with slide and storage
But if you are a creative person that kind of persons that the ideas come to your mind at night and needs a fast way to get down to write some notes on your personal computer which placed under the loft bed. The slide will be an amazing way to get to your computer faster.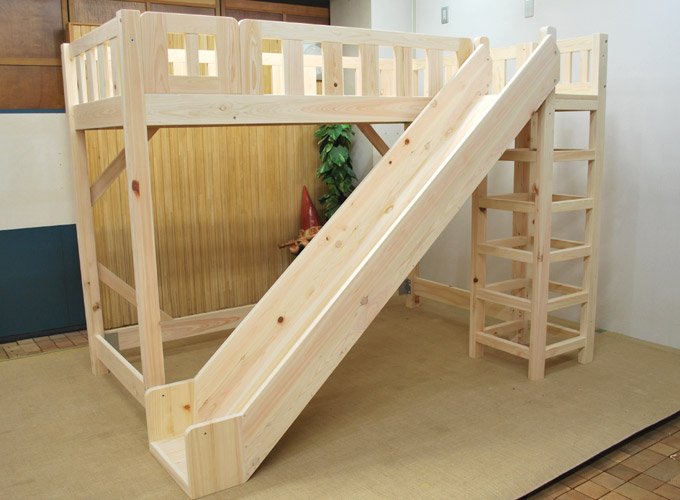 And you can always use the space under the slide to install some storage units that will help you organize your creative projects near your hand and make it easy to reach. I can guaranty to you that it will be the dream home office.
anyway, a loft bed with slide could also be a suitable design for those who are in need for a little fun at their lives but does not have enough time to go to a place that offers that kind of fun.
Kids loft beds slide
If my past ideas of loft bed with slides for adults did not convince you to have one in your own bedroom, I think I will succeed this time when giving you some ideas to use for your kids' bedroom.
In our last article about the L shaped bunk beds, we have offered so many ideas of how we can save the space by using this kind of bunk beds designs. Now, you must know the value of space saving that loft beds could offer to you. We decided to draws your attention to the fun side of loft and bunk beds. 
Loft bed with storage
Loft bed with slide could also be used as a perfect place to store your kids' things under the loft bed. And with the help of the slide, they will have the time to enjoy their stay in the bedroom. It is the time that you can teach your kids how to be organized and give them the opportunity to be happy.
Loft bed in a game room
the slide attached to the loft bed could help you turn your kids' room into a game room with a climbing wall and one or two of the bean bags under the loft bed in front of a screen with the last edition of their favorite games to play on the screen, you can consider it a game room that any kid dream to have one at home.
A loft bed for a princess
In this case, the slide will be the fastest way for the princess to get down from her tower, to reach all who are waiting to meet her. She can enter the castle under the loft bed to make all things under control.
Loft bed for the super boy
Super boy will sure need the slide to reach who wants his help. When he hears the call of duty he can use his maximum speed to offer help and put everything in order. The lower level of the loft bed could be his sanctuary where he can hide his secret personality.
Loft bed with desk
You can always use the lower level to install a desk and a small lab for your kid where he can show his own geniuses.