Granite Countertops
Granite is a durable and versatile stone that is ideal for your countertops. Here, we will mention what matters most and can confuse any woman while designing her home. Yes, it is the granite countertops colors and types. As a result, we are trying to bridge the gap, pointing out granite countertops colors, costs, and designs for your kitchen and your bathroom. It is not just that, but also, showing granite countertops price per square foot US and UK. We are broadening our understanding for a fun and eye-opening experience for your design inspiration.
Granite Countertops Colors
Now, Let's take a look at the latest inspiration color ideas for modern countertops, Browse the best granite countertop colors for kitchens and bathrooms.
White

granite countertops
Surprisingly, we offer some ideas for white granite countertops that will serve you to find the suitable splendid and marvelous design.
1- To make harmonious colors in your design with white granite, the black or gray backsplash tile with it would cause a consistent formation for your design.
2- you can choose white granite with lighter tile, accompanied with convenient colors with black splash everywhere.
3-To be on the right track, use a paramount white backsplash to maintain the light and brightness of your design.
4- You can use a white granite countertop with a white cabinet to make your design more stylish, bright, and classic as well as timeless and spacious.
5- Any color can be agreeable with various colors of any cabinet in designs of white granite countertops. Amazingly, white granite fits dark cabinets; such as black, gray, or dark wood. Fortunately, it also appropriates different colors; such as blue, red, or green.
Black

Granite Countertops
Black granite countertops are so elegant and durable. They give you a strong view and decor in your home. Therefore, we show you some of the best ideas for you to consider to boost your design.
1- If your room is smoky, black or gray granite will be the right choice to add a beautiful touch to it.
2- Actually, black granite countertops complement lighter cabinets; causing a classic look.
3- In rooms where natural light passes through large windows, a dark countertop can be more attractive.



Modern Granite Countertops Colors
---
Granite Countertops Cost
Granite has different types with variety in quality, so the price changes according to the kind and quality. Here, we offer granite countertop prices per square foot UK & US.
1-Granite Countertops Price Per Square Foot UK
Here, I mention some of the most famous kinds of granite with their costs.
* Volga Blue granite costs £431.20 per sq/m
* Verde Bamboo costs about £719.95 per sq/m
* Shivakashi Pink costs approximately £ 1873 per sq/m
* Emerald Pearl costs about £ 2352 per sq/m
* Serrizo costs approximately £ 1433  per sq/m
* Nero Granite MFA costs about £ 2063 per sq/m
2-Granite Countertops Price Per Square Foot US
In general, granite countertops costs differ, in America, according to granite's quality and type, so the total average cost per square foot is about $59. In detail, we show some of the most important types of granite in the US with their price.
* Bethel White granite costs about $26 per square foot
*Fantastic White granite costs approximately $74.23 per square foot
*  Luna Pearl Granite costs about $30 per square foot.
---
Granite Kitchen Countertops
Granite adds to your kitchen great texture, so you will have a splendid design for your kitchen. Here, there is a list that includes some ideas with different kinds of granite kitchen countertops.
*Bianco Romano with painted cabinet is elegant as it fits the white color of cabinets, while, with nickel, it suits any color of the stone; such as gray, white, or brown.
* Seafoam green with stain-grade cabinet will be so marvelous if you would like to add an earthy atmosphere in your kitchen by using harmonic colors for the granite countertops with white cabinets.
*Costa Esmeralda granite, which its color is between green and blue, granite countertops with oak cabinets in your kitchen is a good idea; especially if these cabinets are sandy white.
* Typhoon Bordeaux with cabinets has many forms; such as gray, brown, cream, or red brick. It is a good choice for a light kitchen. The most appropriate cabinet colors for it are cream or beige.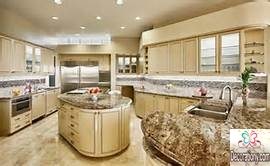 ---
Granite Bathroom Countertops
The bathroom is one of the most necessary rooms in our home as no one can do without it. As a result, we have to look after it to make it meet our needs effectively. There are many rules we should follow to have ideal granite bathroom countertops, here, they are listed:
Make sure that the granite is flexible.

The granite kind should resist the stain in order not to be damaged by water or heat.

Keep granite in smaller slabs to save your money.
Granite Bathroom Countertops Colors
---
How to buy granite countertops?
There are important things to put in your consideration while buying granite for your design:

* Firstly, have a look at the prices in the winter or late Fall to avoid aggressive costs.
* Secondly, compare the prices of the granite countertop in different companies.
* Thirdly, visit every place that buys the brand you want, trying to negotiate with the seller to reach a suitable price.