Outdoor Firepit
We prepared this fire pit DIY tutorial to make it easy for you to make your own firepit for the backyard, This tutorial to make it easy for you to make your own fire pit for the backyard, Have a while sitting with your friends around the fire on a chilly evening.
Everyone likes to light a fire in backyard to cap off a day of entertaining, but that will effect on yard or garden beauty because of the ugly charred circle the lawn left. That made you cringe; you will also be worried about wind-blown ember which could torch the word nearby. So if you finally decide to make a fire pit on backyard that will be a superb idea and the best part that you will Do it yourself outdoor firepit with a modern, stylish design. That will work fine as garden ideas for kids to camp or spend time with their friends.
DIY firepit
Dig 30-inch footing trench down through rocky soil; then you have to get concrete into the trench.
A $500 kit of concrete blocks and a steel fire ring.
This will take about 5 hours to make it perfect.
Prepare a site
Build the Pit
Making half-log benches
Nothing the base logs
Teepee vs. Log Cabin
Fire pit ideas
There are various design ideas for the fire pit, but you will choose design only fits your garden size at first because no one wants to lose most of garden or backyard space by putting a large firepit that doesn`t fit the garden size.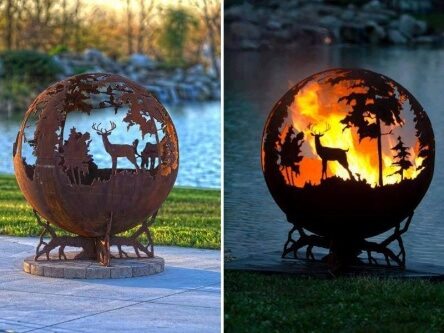 Also, there is a classic fire pit designs and contemporary modern ideas, you will use the model that will be consistent with the garden furniture to make a beautiful style in your backyard choose regular styles.
Round
Use circular design if you want to provide you garden or patio with a draft firepit installation for a classic campfire. using rounded design allow you and your friends for sitting together in the backyard and have a cool night or celebrate with a barbecue party.
Square
Square fire pit design will be the best firepit design suitable for spaces that do not quite allow for seating around it. for modern fire pit design you may try to set it about 12 inches above the ground. this can be used for adding seats when you not using the firepit.
[supsystic-gallery id='2′]