Modern Bathtub
For a modern bathroom choose the right bathtub design & size to feel comfy and relax, you will need choosing the latest bathtub design ideas & trends that will meet your needs. If you want a contemporary bathroom furniture that will happen only when you decide whirlpool tub design fits your bathroom size & style.
In DecorationY blog we will show you a new bathtub decoration ideas for modern bathroom, a new selection of whirlpool tubs fits your bathroom small size.
Bathtub design
If you have a small bathroom and needs to put a bath or whirlpool tub in it, that will not be hard anymore, the new decorator & designers made a decorative bathtub design that will fit small bathrooms, it will not take the most of the bathroom space and will allow you to have a free space in bathroom to walk-in. Also, there are various designs of bathtubs ( one piece ) or ( Two pieces: shower & bathtub ).
The most popular small bath tub is the corner bathtubs that will be a solution of small size in the bathroom, but it will be traditional and not unique, and as we know ever woman want to make her bathroom design looks fascinating and stylish, that will need a unique design for the bath-tubs.
Modern Bathtub design
This the latest bath tub modern designs you will have exciting styles for your bathroom furniture it will be consistent for small bathrooms & large bathrooms. Also, it will be suitable for modern bathroom interior design or Classic design.
Take a look at this set of modern bathtubs designs.
The ِbeautiful color combination of black & white makes a luxury bathroom design. Also, the lighting below the bathtub gives the room more brightness to avoid the darkness caused by black walls if you have one.
Simple Bathtub and shower combo.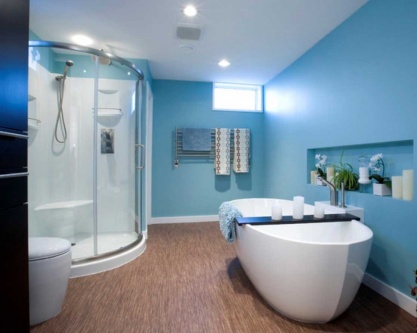 Will be perfect if you have a master bathroom and want makes it more stylish, First thing you thought about the metal bath that it`s odd. But, with a creative designer, you will have a lot of choices like this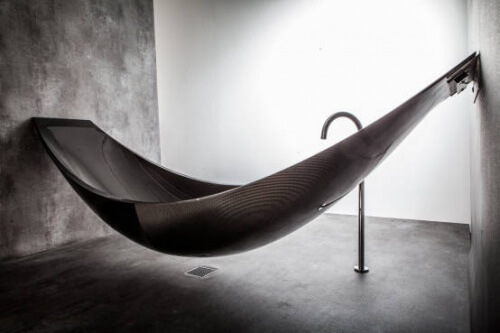 Corner Bathtubs
Here are latest corner bath design ideas for stylish bathrooms, as it`s usually will be 4 feet by 4 feet, but the unique design is the right choice for bathtubs in the corner of the bathroom for a stylish bathroom.
Please if you enjoy this article and like this modern bathtub let me know with a Share or Like √ ♥
New Collection of the most beautiful bath designs for 2016/2017.