Corner dining table
In previous occasions, we saw some of the best small dining room ideas, and it is the time for more details about all another dining ideas. For now, we will try to give you the new about corner dining table, corner kitchen table, breakfast nook table, corner dining set, corner bench dining table and breakfast nook bench.
If you have not finished furnishing your house or maybe you are thinking of changing the decor, take note of the following ideas that will help you in selecting the best corner dining table that fits your decor.
The corner dining table must meet certain mandatory requirements; it must be strong and stable, Fit with your kitchen shape and size. Overall choose it to fit into the interior of the kitchen harmoniously.
Corner dining table materials
Materials for the production of tables are natural wood, chipboard, MDF, glass, and metal. Of these, wood is the most preferred, but also more expensive.
However, the worthy replacement for wood is MDF and chipboard they are much less expensive. Therefore it is most popular.
The glass tables in a metal frame are characteristic of modern styles.
The table size
The table size must be selected by the length of the corner. The more people you plan to place at a table, the bigger length it should be. The most popular tables are the kind that could be folded together. They can perform their functions for a family of 2-4 people, without taking up much space. If necessary, such tables could increase its size.
Corner kitchen table
Such a piece of furniture in a kitchen brings additional comfort to the family, being a place for eating and doing any other work. The construction industry has established a mass production of such furniture so that anyone can choose a corner for their kitchen. It is important only to determine its size and coordinate it with the kitchen decoration.
Each kitchen is unique in its shape, dimensions, and design. Choosing the right corner dining table, which looks great, will make you have an excellent view of the kitchen and will make it look very bright.
Breakfast nook table
The main difference between the corner kitchen table and breakfast nook table is the place that you will choose to install it if you want a bright place outside the kitchen to set the table then you can call it a breakfast nook table. Also read breakfast nook ideas
So, if you have a small kitchen and want a nice place to eat at you can install a corner dining table near a window, and it will be your light breakfast nook table.
Corner bench dining table
It will be more practical if you choose to install the corner bench dining table in front of a window seat. By using the window seat, you will save the space that you will use for the seats, and you will create a beautiful place for dining with a view. And you can also name it a corner breakfast nook.
Corner dining set
The corner dining set usually includes chairs with backrests or stools in an amount of 2-3 pieces. But you can increase them quickly. All chairs and stools should provide an adequate level of comfort, so they are equipped with soft seats. For this, thick foam or polyurethane foam is used. Perfectly recommended soft spring padded stools.
The shape of the seat can be round, square or rectangular. Style of execution of chairs should correspond to style in which the basic corner and a table are made. The material for their coating does not differ from the material of the main seats of the corner.
Ascending or reclining seats could also be used. Some models have spring mechanisms, thanks to which the seats rise completely without applying any physical efforts to them. In most models under the seats, there are spacious drawers for dishes or other supplies. In the absence of such boxes, corners are installed on long and beautiful legs. Such designs are more like sofas.
Finally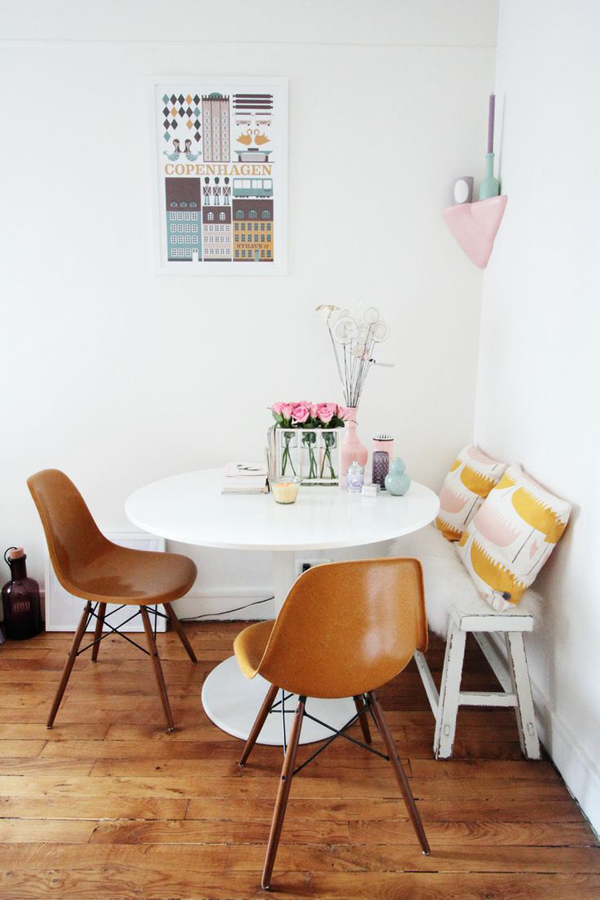 In the arrangement of the house, every detail is important, applying smart ideas like corner dining set will be the answer for the reasonable question like how to use space wisely?
The secret is to properly use the corners of the room, installing a corner dining table will help in resolving this issue. House space will be organized so that it will be comfortable not only to eat but also to move around freely.