When we move to a house with a patio or garden, the first thing that comes to mind is the desire to enjoy it in the coming days, our stone patio ideas will inspire you to have the best use of the patio in your home. The stones are an excellent choice to create a nice view from your patio. His resistance and beauty are unquestionable but you will have to decide according to your budget which design to achieve. The design is also fundamental at the time of installation and you must choose it in advance. you will also find our past article on the stone patio very helpful.
Best Stone Patio Ideas
There are many types of stone to choose from, however, you must take the landscape and style of your home into consideration when selecting the right stone. Granite, slate, and sandstone are some stone varieties that are nice to the patio. Stone patios are durable, have a solid impression and they almost do not need expensive maintenance. and with the right outdoor patio furniture you the place would be much more comfy & beautiful.
Stone patio types
Flagstone, tiles, and slate are three of the most popular types of the stone patio. Stone flooring gives you the most versatility for your patio and it can create a relaxing appearance for your home.
The Flagstone
Flagstone is a most natural looking stone and it is available in a variety of colors, shapes, and sizes. Flagstone is available in earthy tones and gray-blue tones. This type of stone is often irregular in size. This is what really gives a natural feeling because there does not necessarily have to be a pattern in the layout.
Stone Tiles
Stone tiles are a more formal option for your patio design. Stone tiles tend to be a thinner stone and is often used in large patios designs. This stone is also usually rectangular or square and is available in a variety of colors. Stone tiles are not recommended for patios that receive extended traffic.
The Slate stone
Slate is also generally in square or rectangular shapes. it is an extremely durable and moisture resistant stone. It is appropriate for a patio that is near a pool because it is also a non-slip material. Slate is timeless and will continue to improve the style and atmosphere of your outdoor space for many years. It allows you to create a round patio surrounded by blooms. It blends with the surrounding nature and is available in a range of shades and sizes. Mix small and large pieces of slate to form a wide design. Around the patio, you can use mulch to add contrast to terracotta colored stone and keep a damp and weed-free landscape. You can take a step forward in the design and add a slate path leading up to the stone patio. The slate stone is one of the best stone patio ideas.
Stone patio Pavers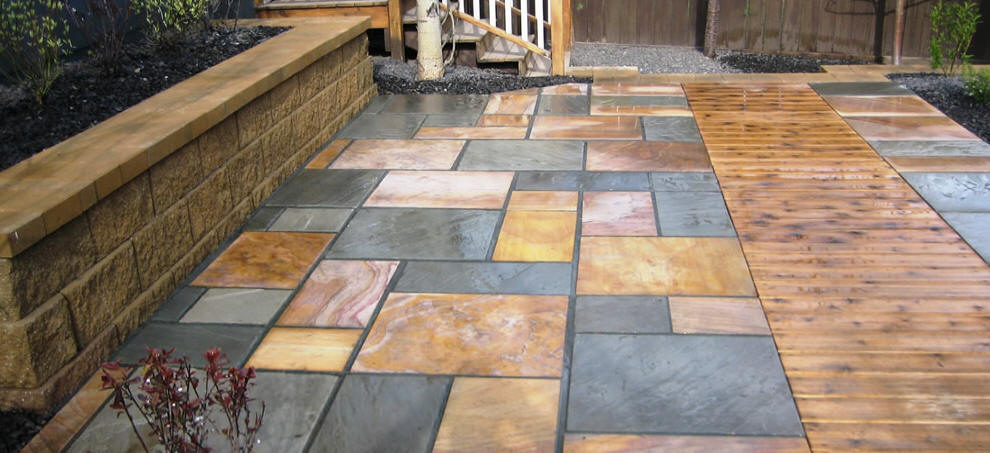 Stone flooring is made of natural stone, granite, sandstone, limestone, etc. These pavers are created in any number of colors, shapes, and sizes. These stone pavers can be made to your specifications giving you greater versatility in the design of your patio. Finishing machines can be customized for specific requirements, or can be selected from pre-fabricated stone flooring.
Stone patio installation
The stone patio creates an aesthetic appeal in your outdoor space while providing a good area to entertain and relax. Installing a stone patio in your garden can be a challenge even for the skilled people who love to do things themselves. Learning how to install a stone patio will help you on your way to get a relaxing garden.
make a diagram for the patio. Decide where you want to place your stone patio. Measure the space for your patio.  And if you will custom designing your patio, you can do it any size or shape. Otherwise, you can go to the traditional square shape or follow the contours of your yard. Write down the measurements to take with you when you buy the stone. Select what type of stone you want to use. Select a color, the muted tones and light will show dirt and grime, but the darker colors will hide garden debris it is better to make a mix.
Dig
Dig the lawn or ground where your yard will be. Excavate enough to allow dirt for the thickness of the stones and a layer of 2 inches of sand.
Create forms
Create wooden shapes to help contain the sand. These forms do not have to be permanent. Make sure that the shapes and dirt are on the same level before installing the sand.
Add Sand
Moisten the 2-inch layer of sand with water to help it settle or tamp down. Do not skip this step – the sand settling can ruin a stone patio if you skip it. Once the sand has settled and leveled, arrange the stones.
Place the stones
It is likely that you will have to cut the stones so that they fit together. When you find them in the right position, touch them in place with a rubber hammer. Once all the stones have been placed, sweep a layer of sand in the joints. Fill the joints with water, and sweep the sand again.
Stone patio ideas and tips
any stone patio ideas will need some tips to be great
A patio near the house will make bringing food back and forth easier; however, choosing a place away from the house can create a shelter on the patio.
Determine the amount of sunshine and privacy your patio will receive. If you want to grow potted plants on your patio, you will need full sunlight. However, optimal privacy is achieved through the selection of a wooded area. By knowing how much sun your stone patio will get, you can make a decision about what would happen to the plants.