Types of Desks Guide
That times change is a fact and that those changes affect the types of desks, too. It is for this reason that we are more and more conducting studies in order to offer you the designs that best meet your needs.
You must be aware that your desk is your privet place and that you should feel good every time you sit at it to work. It can make you feel good every morning when you sit down or on the contrary, the stress increases considerably.

If you want to be a good professional in the sector in which you are currently, then you should think that your office should be a place where you work at ease. Try some of these ideas and change your workspace at home with a new type of desk that really makes you feel good.
15 Best Types of desks

Two factors are of extreme importance when choosing your desk, the height, and the dimension.
Ideally, the height of the desk should be compatible with the height of the user. The height can vary between 50cm and 75cm according to the size of the user.
The width must be defined according to your space available environment and your need.
1- Multifunctional Desk
The best thing if the space you have is small is that you choose for a multifunctional, folding or flexible desk.

2- Desk with storage
You should choose a desk with large drawers and tables where you can place all kinds of accessories. these types of desks with storage can save a lot of space without losing the beauty of the interior design.
3- Desk with shelves
Using desks with shelves is not much different than desks with storage but it can be more contemporary and suitable for who are need to put accessories and decor for the desk.
4- Wall Mounted Desk
If you have small space available, the wall mounted desk that will take almost no space in your room, Just about 1.2m of a wall will be enough. so it would be the perfect type of desk to have in apartments or small home office.
5- Long wooden bench desk
If you like to leave lots of items close to work, a long bench is ideal or use shelves close by. If you like to leave your books and reminders, it is best to use the shelves to store them instead of leaving them on the desk.
6- Industrial Wood desks
7- Metal desk
You can find a lot of desks made by different types of desks materials like steel, aluminum, etc. you can read more about the good and bad things about the materials itself to decide which one you will use and just pick up the design you like.
8- Plastic desks
Not all plastic desks are made for kids, some are just contemporary and modern enough to use in your office even if you like the funky furniture.
9- Acrylic desk
It gives the feeling of more light and space in the room, besides being very modern.
10- Countertop desk
It is great for space saving, it allows you to include a drawer below.
Choose the best material considering the use you are going to make of it. We opt for the wood that is very elegant, contemporary and quite resistant.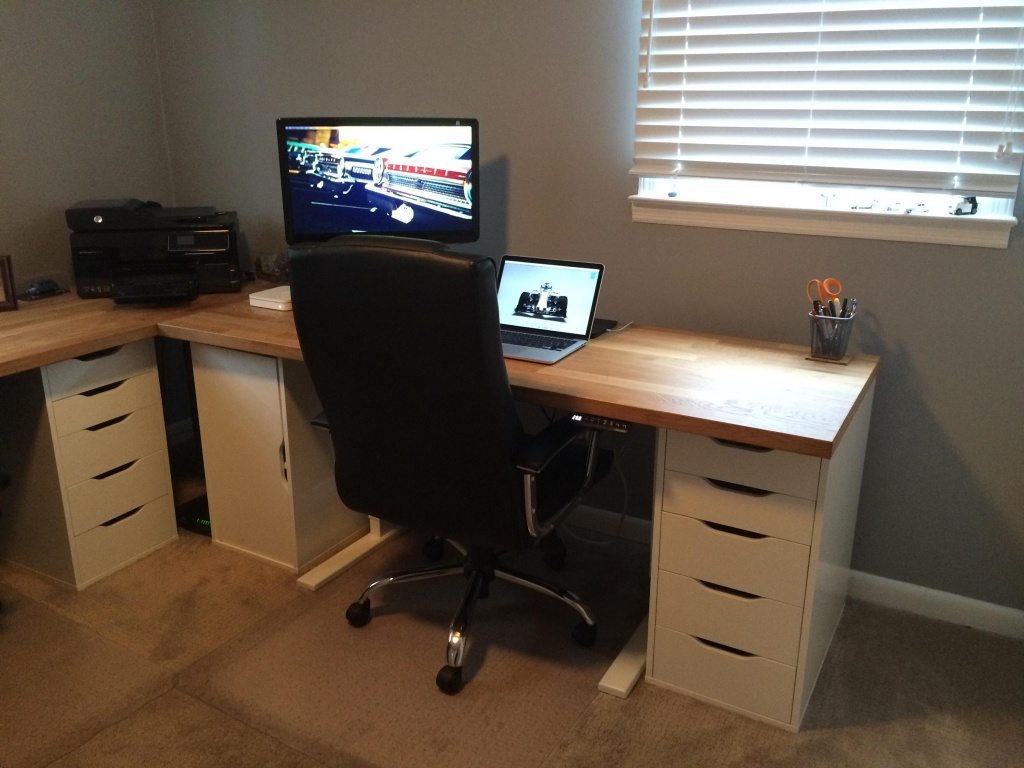 11- Writing desk
12- Recycled desk
If you do not want to spend a lot of money buying a new desk, then the best thing you can do is recycle it. You have as many options as your mind allows you to create, like:
You can have this type of desk with an old table that you can adapt to your height and that you can recycle with paint to make it look nice and to your liking.
An old door may also be a good idea to create a great desk. Look for a nice door that can no longer carry out its function, sand the splintered parts, paint it the color you prefer and put some legs at the right height for you.
13- Pallet Wood desk 
You can choose to make your desk with pallets wood. They are easy to get and very workable for good results.
14- Corner desk
If what you need is space in your bedroom, then do not hesitate to opt for a corner desk. This way you can have 'two environments' on your desk to be able to have everything much tidier and better for you. And you can have everything at hand.
15- A desk near the window
If you do not know where you can put your desk, the best place is to put it near a window, and if it is just below it, much better. The windows give you natural light. In addition, you need to have solar light even indirectly, so you will feel much better the hours that you should be working.
Choosing the right type of desk:
Colors
Once you know how you want your desk to be, it is important that you also think about how to bring a touch of joy. To do this do not hesitate to have small plants, a bottle of water with vibrant colors and accessories that do not hinder much but to make clear what your personality and your personal tastes.
Design
The ideal is to choose a desk in harmony with the rest of the decoration of your house, both with the walls as with the rest of furniture, curtains, and carpets.
The material
Of course, do not lose sight of the types of desks material. Do you know which one you want? You have many possibilities to choose, such as wood, steel, plastic, or aluminum.
Finally, we recommend that you use your favorite color for your desk. You can add some color to the room with the accessories and office supplies. get rid of being bored and choose a good types of desks.
Adding a little joy for the type of desks won't hurt 🙂