Small living room decorating ideas
For many people decorating a small living room is a very difficult task, but if you try these small living room decorating ideas you will find the way to have a special decor to your small living room.
It is difficult to make it functionally enough and at the same time not overloaded with furniture, you need to try hard. It could be easy when you try this small living room decorating ideas.
The living room is a resting place for all family members. Usually, in this room, there is a sofa and TV, and the whole family gathers in the evening to watch a movie, chat or play board games.
Lighting
This point should be paid special attention because it's one of the most important small living room decorating ideas. In a small room, lighting should be a lot. Do not close the windows with large and thick curtains; it is better to use translucent fabrics that will miss a sufficient amount of light.
When choosing a chandelier, it should not be too big. A large chandelier in a small room will nullify your attempts to visually enlarge the room.
The main light source must be with a few additional ones. It can be built-in lamps or sconces, floor lamps or even table lamps.
The furniture
You can find a lot of modern furniture for living rooms but you will need these essential ideas to have a modern living room furniture and that will make your whole living room interior design perfect.!
Decorating small living rooms is not about placing all the necessary items, but also to create a space that is comfortable for living. Here is a collection of modern living room designs that are trend 2018.
This means that between all the pieces of furniture there must be enough space for comfortable moving. We recommend placing your sofa in the room obliquely or transversely to create air around the furniture.
Taking into account the family life style in the living room the whole family gathers, so even in a small room, it is important to provide comfortable places for everyone. For example, if you often call friends, it's best to give up seats in favor of a large sofa and here you can find best types of couches. You can add puff seats, which are easy to hide.
Multifunctional, light colors, transparent glass, and acrylic furniture are ideal small living room decorating ideas. Transparent consoles, coffee tables, chairs, vases, are also a good choice making it more spacious.
Elegant backrests and armrests, sofas, and chairs on legs look much nicer than dark heavy chairs, completely covered.
Accessories
Try to make the accessories of your living room as simple as possible and not very large. A medium-sized picture without frames or in a laconic frame, a wall clock, is good. Also, there can be statuettes and vases, living plants.
With their help, you can revitalize the atmosphere. A lovely, large and colorful mat can make your living room look great. Hang a simple light tulle curtains on the windows to complete the look.
Painting colors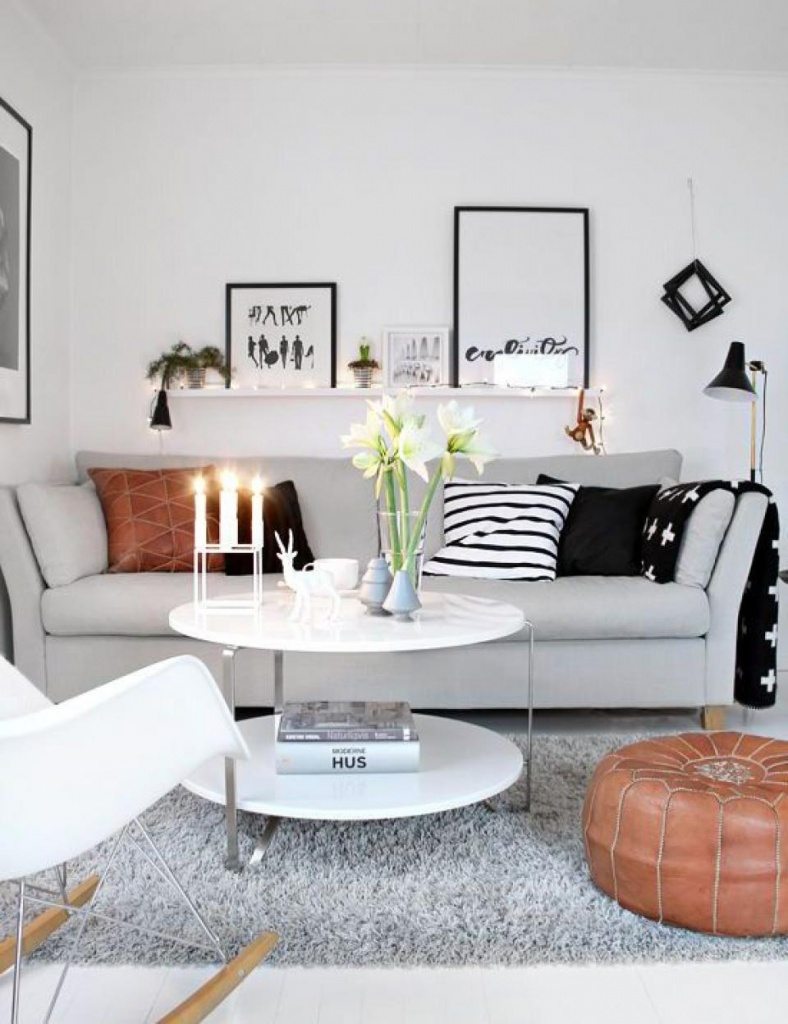 To easily expand a small room visually.  Give the preference to the white color. It can be used in the decoration of walls and ceiling, partly in furniture. To maintain color balance, use dark tones on the floor. They will create a sense of stability. you can take a look at this amazing living room color schemes to help you in choosing the right colors.
The furnishings and decor can have a neutral coloring, and for brightening up the atmosphere small bright accents are suitable.
A white background can be successfully replaced with a light gray or any pastel shade. Cold tones will give the room a feeling of freshness, will allow you to achieve the maximum effect of expanding space.
Storage
Cabinets and shelving, made by order specifically for your apartment, will help to solve the problem of lack of space for ready-made storage modules. An experienced carpenter uses each millimeter of space competently, and such furniture often does not cost more than ready-made cabinets and chests of drawers.