Most of us think that home office is just a desktop and an armchair that is used to work at a computer and maintain a home accountancy. Although, designing the home office even in a corner is an important factor. Today we will talk about Midcentury home office ideas.
Midcentury home office ideas
The Midcentury home office ideas do not necessarily mean sticking with the flea market and old interior items. You can simply use modern materials, new furniture, and DIY decor items. The Midcentury Home Office Ideas are rather, about providing all the needs that will make your business processes work perfectly at home.
Modern Midcentury home office furniture
Here we have at least two ways. The first is furniture, stylized "Midcentury", which is made by modern manufacturers. The second is the old furniture that represents this era, restored and recycled. Both options are good, although the second one, probably, is more interesting, you will have the opportunity to touch things with a story.
Midcentury wallpapers
The wallpaper does not have to be old by itself; it is enough to have a stylized drawing, geometric ornaments, floral prints, or any graphic design options, characteristic for the Midcentury style.
Table lamp
Without the lighting, the home office will therefore not be a functioning office. Therefore, you will need a table lamp anyway. And if there is such a need, why not use a retro-style lamp. Such a lamp can be found both in modern manufacturers and in flea markets or online auctions.
Midcentury Home Office decor
Of course, the best way to add this style to your home is provided with interior details and decor objects in Midcentury style. The organizers for papers and stationery, all sorts of office needs, and vintage posters every detail makes your Midcentury home office ideas unique. Complete the composition with the wall clock in Midcentury style and a disk phone then the Midcentury interior of the home office is now ready!
Midcentury home office chair
The interior of a home office is not always spacious room with the library, very often it is only a corner in the common room, reserved for working or creative activity. As we said before a comfortable table, local lighting and, of course, a functional chair is the most important objects to create a home office, and it is the time now to speak about the chair.
The chair-type
Comfortable position of the body and back are very important for effective work. so, If you decorate the interior of a home office with simple furniture it will be appropriate to choose a classic office chair. The usual classic office chair functionality and quiet colors will help focus on the work and easily fit into the office interior.
The main conflict here is that, as a rule, a comfortable office chair is a traditional model with legs on wheels and the ability to rotate. But difficulty appears when choosing between a traditional chair and a non- traditional one. Choosing between a traditional chair or stylish chairs and armchairs, with unusual fabric upholstery, like the treasures from antique shops is really hard. In fact, they are a little less functional but certainly beautiful and aesthetic.
Perhaps the compromise is to choose a chair for a home office, taking into account your own needs, some people are comfortable working and sitting on a stool, and some needs a three-dimensional armchair with leg support. In any case, you should not give preference to a very beautiful and uncomfortable chair and, also, it is not worth sacrificing aesthetics for the sake of functionality.
Midcentury home office library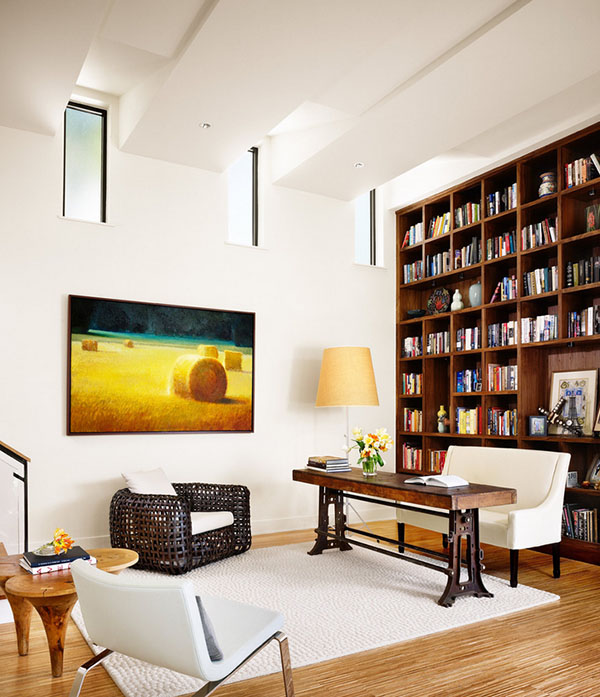 It will be great if you have enough space to install a library in your home office. You can install a traditional wooden library or you can opt for using cube bookshelf which will be a practical idea for small spaces. it is also great if you installed some nice open shelves above your office desk which you can use as a storage system for accessories, papers, books, and, of course, the important documents of your work.
Finally
The best way to apply the Midcentury home office ideas is to try your best in using your imagination. Try to see through the eyes of our ancestors, whose active life lasted 50-100 years ago. And try to surround yourself with the same atmosphere that they surrounded themselves with. But do not ever forget that the main idea of having an office at home is to provide comfortable atmosphere at home for more work.