Diy Popcorn Machine Quickly
If you're one of the people who just love going to the forest and explore, then this is a good DIY for you! Now, I'm going to show you how to make a DIY popcorn machine from a $1 can to enjoy delicious fresh popcorn in the woods.
All you need to do is take your new DIY popcorn machine with you (I'll show the steps in a second), some un-popped corn kernels and a match.
Maybe you can be camping and took some un-popped corn kernels and want to enjoy a delicious popcorn cans and ran out of ideas. So, if that's the case, all you need is an Army knife (a multifunctional one) & two empty cans.
Now, I'll guide through an easy step-by-step guide to make a simple DIY popcorn machine to add some fluffy yet crunchy deliciousness to your camping trip.
DIY Popcorn Machine Steps:
You'll learn how to make the popcorn machine in 9 easy steps:
Gather your materials.
Cleaning your cans.
Designing the first can.
Now, the second can!
Making a small stove.
Folding up.
Flattening.
Lightening your stove
Enjoying your victory!
Let's get this post popping!
1.      Gathering Your Material:
You're going to need 7 handy things to do this machine:
Fresh un-popped kernels (un-popped corn)
Soda/Beer/Coke can
Candle (the small tealight one to fit your small stove)
A multifunctional Army knife
A black permanent marker. (not really necessary)
A lighter or matchsticks for the fire.
A small bowl to serve your popcorn.
2.      Cleaning Your Cans:
It's simple, all you need is two empty cans.
Make sure you wash them really well; you don't want any residues on the walls of the cans.
3.      Designing The First Can:
Draw a rectangular box on the can or just cut a rectangle on one in the upper half of the can.
Just make the rectangular of good size because this is where popcorns will come out.
Don't cut out the rectangle, keep the upper line attached but bend & push it up.
Important Tip: The edges of the can are very SHARP! So, be careful not to cut yourself.
4.      Now The Second Can!
Use your eyes to cut 2/3 of the can's height. So, cut a circle along the edge of the can.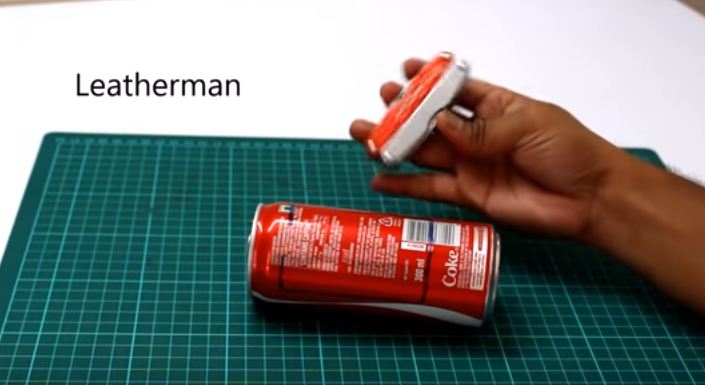 This is where your Army knife will come handy.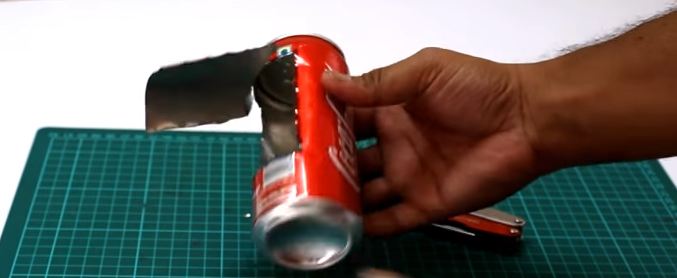 If you're lucky and have a pair of scissors around, use it to smoothen the edges of the can (this is to protect you from injury as much as possible).
5.      Making A Small Stove:
Flip the 2/3 of the can, and mark 4 points symmetrically on its bottom.
Then, use each point to draw a straight line along the can wall externally.
Mark a point on each line about 1/4 inch above the bottom of the can.
Join two lines to make a "U" shape at the marked points you just made.
So, you should have 2 "U shapes on you can!
Use your knife and cut out the 2 U shapes.
6.      Folding Up:
It's time to fold up the upper edges to ensure your safety.
All you need to do is mark a line on the remaining two limbs on the can.
It should be about 1cm in width to get a nice fold.
To make the folding easier, cut on each limb 4 small strips to the marked line.
Then just fold it inwards to protect your hands.
7.      Flattening:
Here, I'm referring to the bottom of the can because it's curved outwards.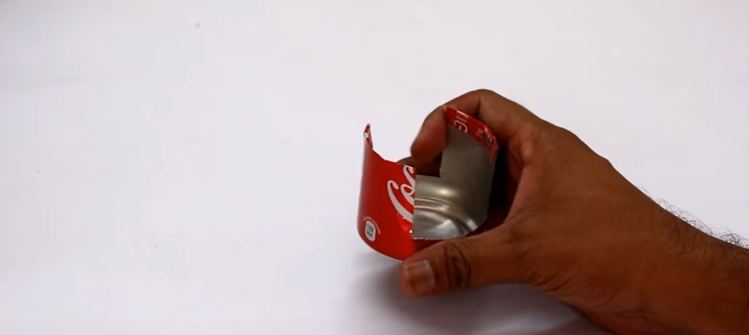 So, you need that to be flat to hold the candle in securely.
If you have a hammer or a stone (in case you're camping), use it to flatten the bottom of the second can.
8.      Lightening Your Stove:
Get your tealight candle and place it on your burner.
Light it up with the lighter or match.
Be careful while handling the fire.
9.      Enjoying Your Victory!
Place the first can above your small stove.
Then, put your small bowl beside the opened part.
Here's the exciting moment you've been waiting for!
Pour the corn kernels into the can.
It only takes a few minutes, and you'll find magic happening in the can!
Wait for few minutes.
Suddenly, the popcorn will begin to pop and will escape the inside of the can through the opening you've created.
If you want to speed things up, you can place more wicks into the candle's wax.
Congratulations, this was your DIY popcorn machine! Share your victory with us in the comments below. Tell us how your popcorn snack was.
but, it's worth mentioning that you should buy a popcorn machine. Feel free to check our ultimate best popcorn machine reviews here.
You can watch the video:
Stick around for more popcorn tips and tricks! Cheers!