How to Decorate your Laundry Room?
Your laundry room is an inherent part of your home. It is an important work area that is probably visited by you and your family members more than once during the day. Given that it cannot be done without and is a part and parcel of big and small homes alike, it is essential to keep your laundry room clean and tidily arranged.
Gear up to bring about positive changes to this paltry space and create an altogether new look to lure on and all into its chic or vibrant domain. What will you choose? Creative décor, vibrant color palettes or an understated yet elegant appeal? There are plenty of good ideas given below to allow your creative juices to flow freely.
Laundry Room Decor Ideas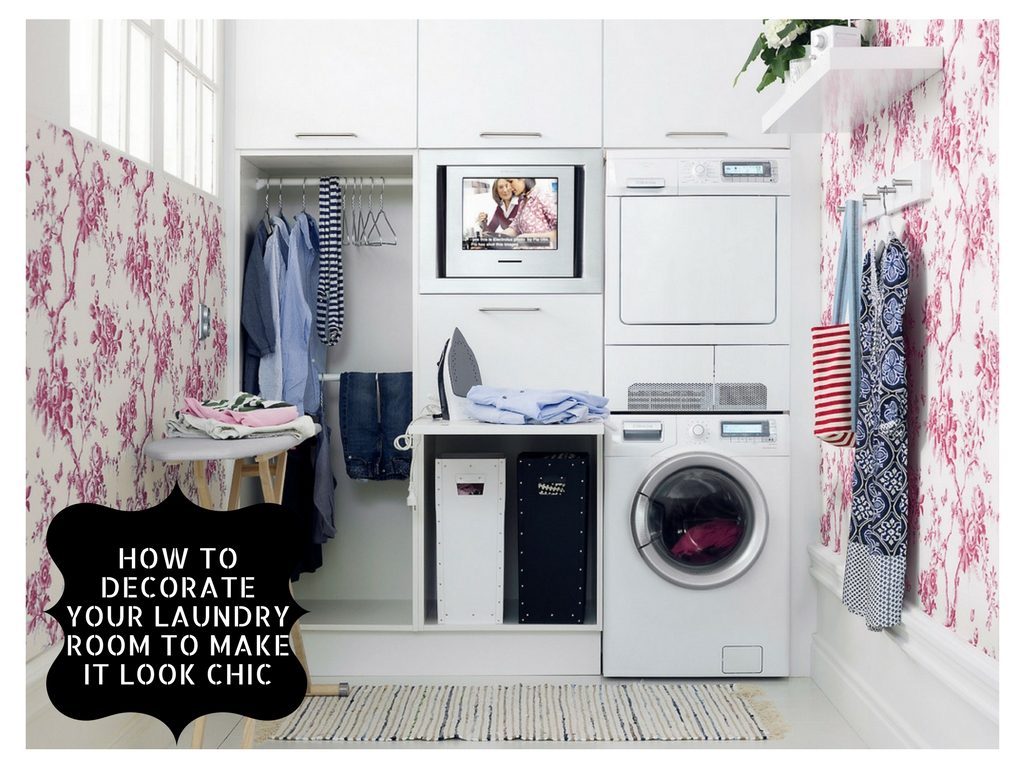 Opt for a purely divine look
How about adding a fresh spin to your laundry room by making it look ethereal in white? The trick is to arrange all your utilities and laundry equipment in an optimal way without making space look barren. You may want to fish out fun accent fabrics and tailor neat curtains for concealing the under-the-sink area effectively. Keeping the decor classy and simple is an inexpensive and easy way to keep your laundry room looking fresh in a snap.
Bare and beautiful
How would you like to work with a monochromatic color palette and the perfect combination of natural textures to create the right contrast? You may want to further organize the different aspects of your laundry room with glass jars for creating a soft look. Store your detergents and items of daily use in these stylish and functional containers to attain a chic décor for your space. Once done, you will find sudden sparks of elegance coming to the fore in the most unexpected of ways.
Fabulously functional
This kind of laundry room décor banks on materials that are both good looking and functional. Invest in easy to clean and durable materials like stainless steel and tiles to make this high utility space look neat and tidy at all times. As per a reputed designer Rebekah Zaveloff, it is a good idea to include a smooth and large enough countertop on top of your laundry appliances, so as to create that extra surface which all functional areas dream of.
Bold colors help you make the right statement
If you are the mistress of a slightly larger sized laundry area, it would be a good idea to create your own style statement by using hip and bold colors.  The right usage of vibrant and rich colors goes a long way in creating spectacular impressions. For instance, the lime-green paint with matching or contrasting cabinetry colors would tie it all together and make your space appear inviting and fun.
Thoughtful cutting back and thrifting
Not all laundry spaces don the new and picture-perfect look. There are a number of contemporary homes where the shiny and chic look can be well replaced with antique cupboards having an exquisite wooden finish. Old and vintage furniture can be effectively rehabbed to tell an altogether different story and offer the necessary storage space. Such laundry rooms are generally found in farmhouses and country homes and are likely to create interesting indoors with the perfect mix of natural elements.
Gadgets galore
Use a metallic partition for keeping your gadgets away from the storage area in your laundry room. This is specifically a good décor idea for ironing boards that are comparatively tough to hide. Be it ultra-modern laundry rooms or the ones with more conventional décor, such partitions go a long way in distracting visitors from the mechanical systems placed behind them. Alongside, they also give off an interesting backdrop for your utility space.
Personalizing with fun
Have a small-sized laundry area that you desire to decorate in the best of ways? Strive to use a light color palette that flaunts plenty of light wood and white tones to gain a fitful look. Along with making your space look abundant and larger, these tones are known to complement textures like metal, canvas, and wood to create an altogether pleasing décor. Once done, you may like to personalize your space to add more character to it – for instance, remember to place good looking glass bottle on the rack above the sink or add a patterned rug to give yourself that wonderful underfoot feel.
Raised up for a more dynamic appeal
Create an elegant yet dynamic laundry space by using a smart contrast of white and black. When coupled with chandelier accessories and other fittings, you can be assured of getting a utility area that you would like to work in happily. Just raise the dryer and washer to the desired level and you can get extra storage underneath. Completely stylish and functional, this choice of décor would help you maximize the space available to you.
Natural and chic
Are you the kinds who believes in natural elements when it comes to drying your freshly washed laundry? At most times, you will find the perfect solution right in your verandah or backyard. You may like to use a branch that's suspended by a wire or cord to create a charming and rustic alternative to contemporary drying racks. Alongside, you may hang neat looking baskets to create more storage space. In the process, you can keep your indoor laundry area chic and more organized by moving part of its functionality outdoors.
Even laundry rooms need adequate lighting
Even if doing laundry on a daily basis does not make it to your list of favorite tasks, you need not feel that it's dirty or avoidable work. Add a chandelier to make the area look chic and proper. If you want to cut down on your lighting costs, try to include natural lighting to complement the existing illumination in the area.
Are you still looking for more ideas to create your dream laundry room? Check out the illustrated ideas on this page https://www.homestratosphere.com/photos/laundry/ to give further vent to your creativity.