Colors for Small Bathrooms
Affordable small bathroom color ideas, tips, and tricks that will add luxury design for small bathrooms.
To make a small bathroom seem larger the first thing you have to do is to pay attention to bathroom color schemes, We will show you latest colors for small bathrooms to make the bathroom bigger and luxurious.
Paint Stripes: Paint colors help guide the eye throughout the room and can make your feel the rooms tend to be bigger or taller.
You can use stripes make small bathroom looks wider or taller by using these tricks.
Paint Vertical stripes on small bathroom walls and low bathroom ceiling will make your bathroom looks taller.
Create contrast by using the Horizontal painting on walls will be perfect if your bathroom ceiling is high and the bathroom looks tall, So If you try it, you will find it makes the bathroom look bigger and stylish.
Light colors will help in making any small room look bigger, in this case using bright colors in small bathrooms make it looks larger than it`s real. You don't have to use the same color for all the bathroom, but you can use the same tone of colors to make your small bathroom look like spa. You can see some of already done projects for Bathroom remodel ideas ( Before & After ).
Finally, Take a look at this collection of the latest bathroom color ideas and trends 2016 / 2017. A small bathroom can be luxurious by using light colors that will allow you to make the bathroom look larger.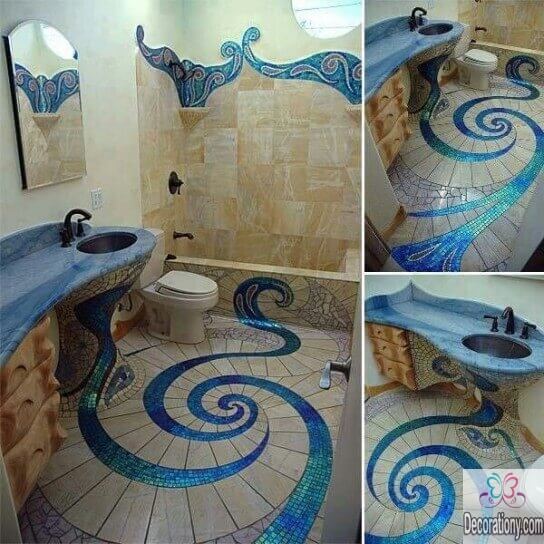 Colors for Small Bathrooms
Best small bathroom color ideas &  small bathroom design trends 2016 / 2017.
Spring Green


Trendy color in 2016 if you mixed it with white color it would be luxurious. Also, using patterns tiles will be a focal point that will make everything else ignored like the small size of the bathroom.

The most popular light color to use in the small bathroom is spring green color.

Sky Blue


Give your small bathroom the depth of the sea and the best second color to use with it is white to make a bright bathroom design.

These inspirational ideas for the small bathroom by using colors, sky blue and white colors make the bathroom bigger. Also, Using Nature flowers vase in the sink is a great touch to make the bathroom looks luxury.