Bunk Bed with Desk
Bunk Bed With Desk is the smart idea for a children and adults room if there's need for space saving. Your kids will be living in the future when you add this Bunk Bed with Desk and Ladder to his or her room. The bed is large and comfortable for a good night's sleep, and the frame gives it a sturdy base for safety and stability. This futuristic bed is raised high off the floor to allow space for a work desk.
These items are perfect in that they combine so many important features that are requiring in a bedroom, but do so in a compact manner while still providing ample storage space, a place to study, and of course that all important bed.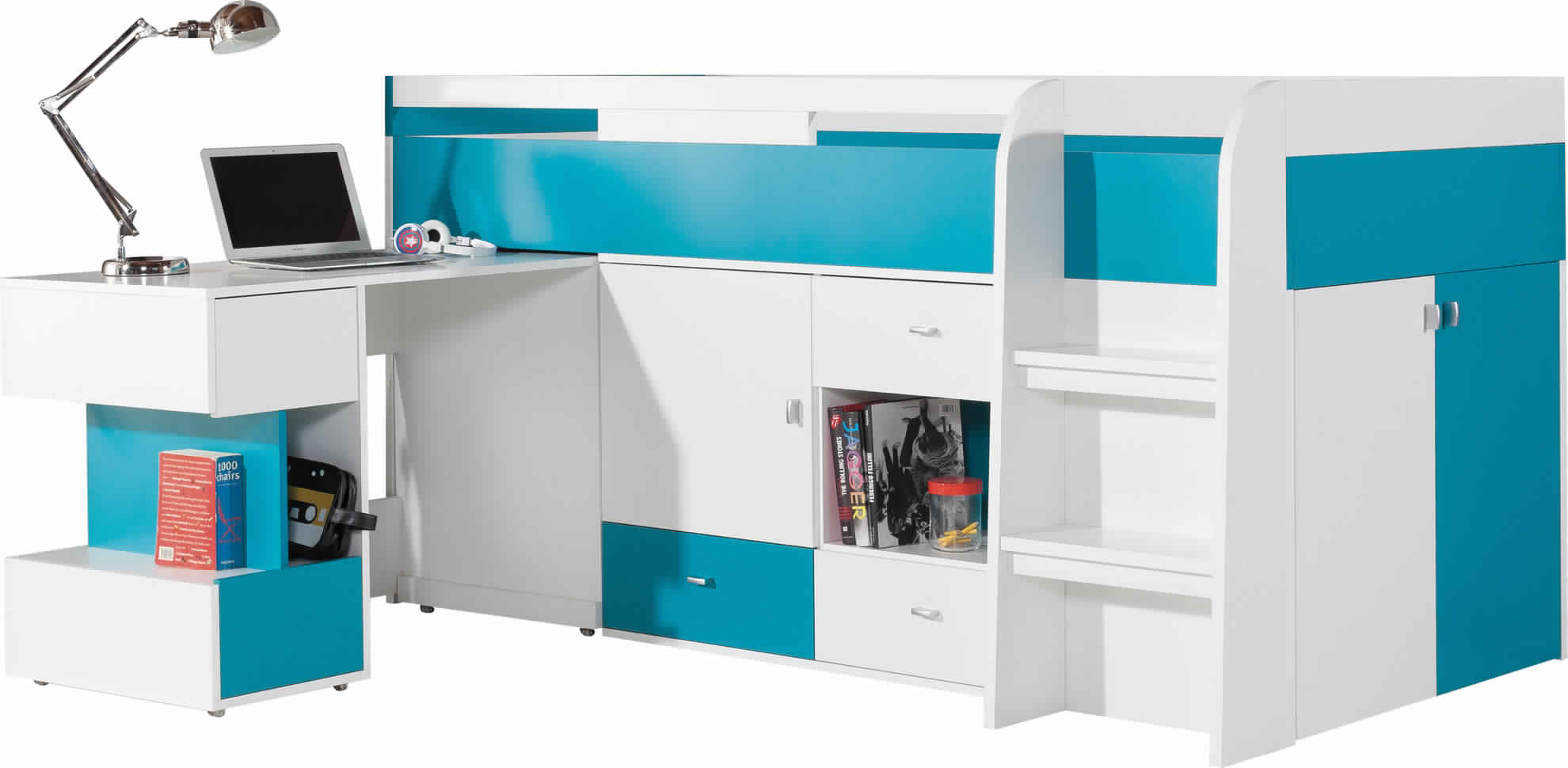 Plans And Design
First, we should look at layouts, and there are numerous options available to you. If we just focus on what lies beneath the bed, then what you will see is that you can choose from those that simply have a desk as a study area while others include a wardrobe and additional storage space along with the bureau. The ladder to access the bed can also place on the end to create more storage space although it is more common for it to be on the front but to one side.
For the
L-shaped bunk beds design
, then this type of bunk bed does come in various wood, or there is the other option, which is a metal frame. It also has different styles from plain pine, to those that can fit in perfectly with the dream kids bedroom, or a slightly more grown-up look to it for those kids that are starting to move into those teenage years.
Storage
It is worth mentioning storage again because often this is the one thing that is lacking in the small bedroom. With smart bunk beds design ideas, there is the option of having a wardrobe built in with it either the front or you can also include it to one and although you do have to remember the depth of the closet if this is your preferred option. Alternatively, you can drop the wardrobe idea and look at a built-in cupboard, or a box storage idea depending, once again, on the design you have to choose it.
What is clear is that if you are trying to layout the bedroom for the child and there is limited space, the loft beds with desks are the best possible solution. They provide pretty much everything that you need in one compact piece of furniture, and with so many options available, there is no doubt that you will find the ideal piece to fit in with the room.
Advantages of using Bunk Bed With Desk:
A bunk bed in a small apartment can create more space for both storage and other activities.
Imagine a bunk bed without the subbed, and you will get a good idea. However, that type of bunk bed must not be as small as children's bunk beds but have a double or a king-size mattress.
Bunk beds are most commonly appear in children's bedrooms, but there is also many of modern bunk bed with desk, which is perfect for

adults bedrooms especially

in a small apartment.
When the bed is lifting up into the air, you will use the space in the room perfectly.
There is something new and a bit playful in the bunk bed designs. They feel not only hidden but also light and lofty.
It often has the advantage that you not only create a private space for quiet, but you can also accommodate a desk, bookcase, cabinets in the free space.
 Bunk Bed are popular choice for many designers
A main advantage of the bunk bed is that it creates more space for the room. The space under the bed is suitable for accommodating a desk, shelves, chests, or other pieces of furniture.
In this way the rest of the space is free. In a small studio, a bunk bed can accommodate other types of furniture such as a sofa or extra seating.
Bunk beds with Desk can also look very stylish. If properly selected and matched with the rest of the furniture in the room, they can add a charming atmosphere.
Bunk beds are a popular design element for most designers, who love practical and attractive designs. Fortunately, they are both functional and beautiful.
Bunk Bed With Desk For Teen Girls
Now let me explore with you some tips for choosing the suitable bunk bed with desk for girls:
Bunk beds bring along with them plenty of advantages. The privacy feature is a prominent trait that makes them so endearing. But their space look often means they are just limited to teen bedrooms. Bunk bed with desks are probably far more effective and efficient addition for the adult bedroom. Explore this collection of the most beautiful teenage girl rooms for your daughter.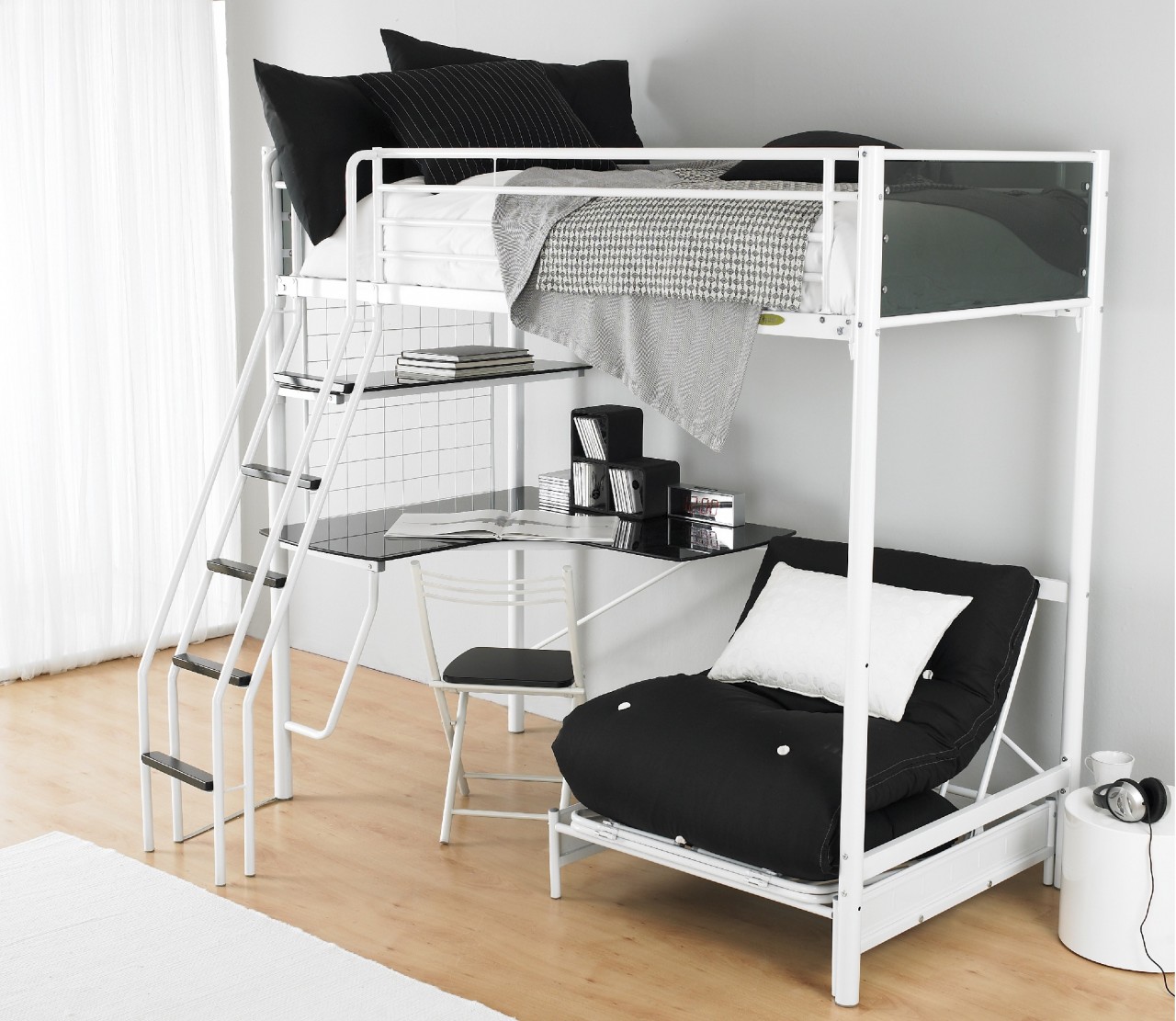 Particularly the case if you live in a small studio apartment or a cool bachelor pad that has limited square footage. Instead of trying to maximize the available space, you can exploit the vertical space to craft a bedroom that sports a generous home workstation.
 Make sure that bunk bed you pick fits in with a girly theme of the room. If you are finding that a hard proposition, then simply bring home white bunk bed with ample space underneath and then use a bit of creativity, some paint and desk to achieve the look you desire. Refreshing yellows and vivacious pinks look great in girls' bedrooms, while blue is perpetual favorite with the boys.
To check out other Bunk Bed with desk designs image from the gallery at the foot of this page, just click on the picture currently displaying below. Thank you for support, and for visiting our website.
Collection of Bunk Bed with Desk