Black and White Bathroom
Black and white colors are contemporary for modern home Interiors. You can choose black and white bathroom ideas to make them look modern and elegant, sure it is a perfect idea, especially when mixing the black and white colors into one design. Changing trends in fashion and decor with beginning in 2016. Goodbye to the old traditional colors such as blue, beige and pink. Today we show you a funky and values color for bathrooms. We offer you the finest 20 idea for the black and white bathroom with more elegance decorating ideas, where black is the King of Colors.
Keep in your mind that shrouded black solo is not suitable for small bathroom and tight because it gives a sense of the small size of the original. The white color is ideal for small bathrooms, and tight it gives a feeling of multiplying space.
Black and White Bathroom Ideas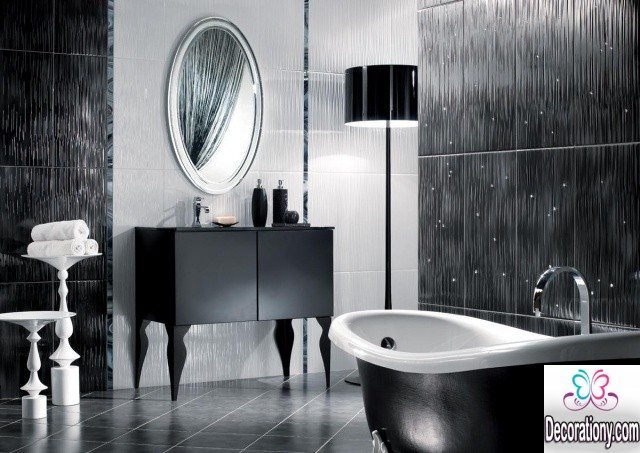 Colors affect our mood. Psychology experts confirm that colors have a psychological effect on the soul, feelings, resulting in vibrations, some carrying comfort and relaxation features and security, and the other gives the characteristics of anxiety and stress.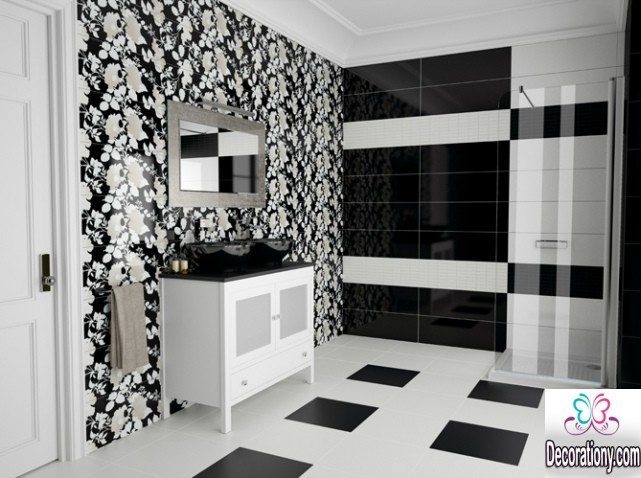 And if we talked about black find that color symbolizes the dignity and strength of character. Preference it more the mysterious characters that love the respects the privacy of others.
Also called black color force gives a sense of strength and self-confidence.
Black is not a color; it does not exist in the spectrum.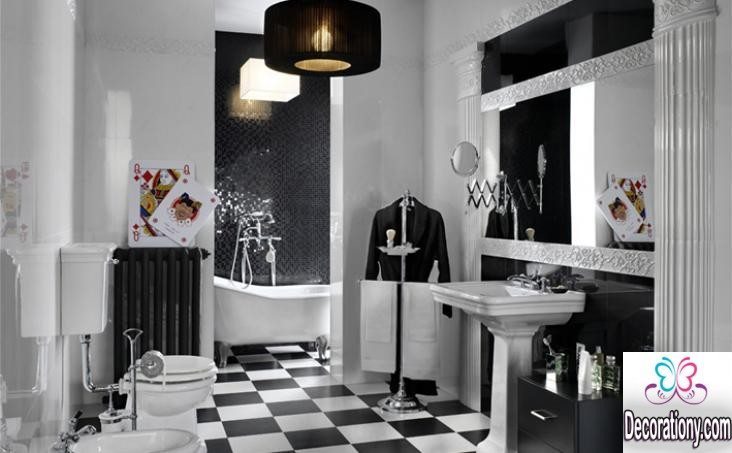 The bathroom was created to meet the needs of health and then turned into an integral part of the modern house design. Bath design plays a significant role in our daily lives and represents a vital space at home must be attention.
Black and white bathroom design simple, clean and unique. There are many ideas for combining black and white bathroom. Can be completely white with some black details or it could be a black dominated with little white. It is common in the black and white bathroom decor idea of using black and white tiles together like chess or choose one as a single color.
The walls are usually partially or completely covered with black and white tiles, you can also use furniture contrasting with the wall colors. In this way, attention is drawn as a main part of the room immediately. You can choose the room decor and furniture of the same color, but with the completion of the various individual elements and opposed only a few of the variety. Often a luxury appearance is achieved with the use of shiny surfaces and elegant furniture. Lighting and mirrors are an integral part of the overall design for the modern bathroom. Mirror either comes in black and white and looms over the sink. It can be a different color than the walls and Foundation to highlight the important role.