Bathroom Mirror
Your bathroom mirror is basically the centerpiece that definitely and directly affects your bathroom look. Whether it's big, small, wide or tiny, there are plenty of inspirational mirror ideas and pickups that we have collected only for you.
Now you can Explore the most inspiration bathroom mirror ideas, and Find out luxury designs for bathroom mirror cabinets, mirror with lights, vanity, led, mirror frames, and frameless too. Take a look at simple ideas for how to frame mirror, and choosing the right mirror size for your bathroom.
Bathroom mirror ideas
Check out these stylish ideas to get the most out of your bathroom mirror and simply, apply your favorite!
Bathroom mirror cabinets
First of all, did you know you could DIY  bathroom medicine cabinets in the most easily inexpensive ways!?
Take into your consideration some of our creative ideas to get the inspiration you need for a perfect redecoration for your bathroom. If you already live in a house with a bathroom mirror cabinet, you'll probably realize how effective this is. It saves space and keeps the bathroom looking clean of all the toothbrushes and medicine that otherwise would be thrown somewhere in a crowded drawer. Well, if you don't, you might need to try this out. The cabinet can also be used with many other options, it doesn't have to be behind the bathroom mirror. Just as shown here.
Via: Flicker
Here are the full steps to how to install a basic medicine cabinet.
How to frame bathroom mirror?

Not a very hard process (if you have the tools), but framing bathroom mirror might take you some time. Whether you consider framing it yourself or calling for some help. To DIY has become an everyday trend. Not only because the money it saves but for the joy and creativeness you feel creating something new or transforming old stuff into a whole new project out of little material.
Since the process contains many steps I've decided to explain the whole thing concluding every single detail to help you step by step. Here's how to easily DIY mirror frame.
Bathroom mirror frames
Once you're reading this right now it means you already realize that a frameless mirror is only for purpose but no style. Talking about frames, there are various styles of mirror frames. Each can provide a different look to your mirror that will highly affect your bathroom look.
When it comes to deciding the frame, old wood whether found in a lumber yard or found around your house would definitely provide a rustic look. Just stain it with a nice color and seal to prevent warping.
Bathroom vanity mirror
Check out more Vanity mirror styles on Pinterest
There are plenty of styles to decide on, from the handy affordable to the vanity expensive ones. You need to consider your bathroom size and design so you can accurately decide on a suitable choice.
Speaking of vanity mirror styles, here are few ideas:
Silver, Gold, Black or Brown are your winning color cards for any design.
Always consider getting close to the natural wooden color. You know fair brown once you see it, it lights up the place.
Rectangular and square mirrors are the same, both add a symmetrical balance to the place. It's only the personal preference and bathroom style that matters.
Tastes differ, but it all gathers when it comes to the one large mirror that fills your vanity bathroom and your purpose.
Large bathroom mirror Ideas
Via: CarlaAston
It's usually preferred to use large mirrors in small places. As they reflect the light and the space making them visually feel larger.
However, large bathroom mirrors add elegance and style to large spaces as well.
It also a clever idea to add light on top of the mirror or hang in front of it. Just like shown in the picture.
Frameless bathroom mirror
Who said frameless bathroom mirrors can't be stylish?
Frameless bathroom mirrors aren't actually bad as many people think. They can be a perfect match for a small bathroom.
Frameless mirrors give any homeowner the opportunity to unleash his creativity.
If you consider small frameless mirrors, you can hang them in a group, just a small area on the wall using colored cute ropes. Just like shown here
You can add a medicine cabinet behind the mirror as we said in the first paragraph, that will add style and function. (Honestly for me, using cabinets keeps the bathroom looking clean)
Also, one large frameless mirror added to a large bathroom can give the space elegance and style if you consider certain tricks, such as lighting it or adding a LED to the mirror as you would read below.
Lighted bathroom mirror
A great way to effortlessly illuminate and add style is to use lighted bathroom mirrors.
Make it simple, don't try to crowd your space or make extra effort adding various stuff thinking you're styling it. It's not about stuffing the bathroom.
A bathroom mirror with lights is simply a solution for the overthinking about how to properly light the bathroom without overdue.
It will guarantee you'll have a perfect lighting to your face without hurting your eyes. (Make sure it has a dimmer)
Of course, don't forget to add light fixtures elsewhere in the bathroom for other activities.
Led bathroom mirrors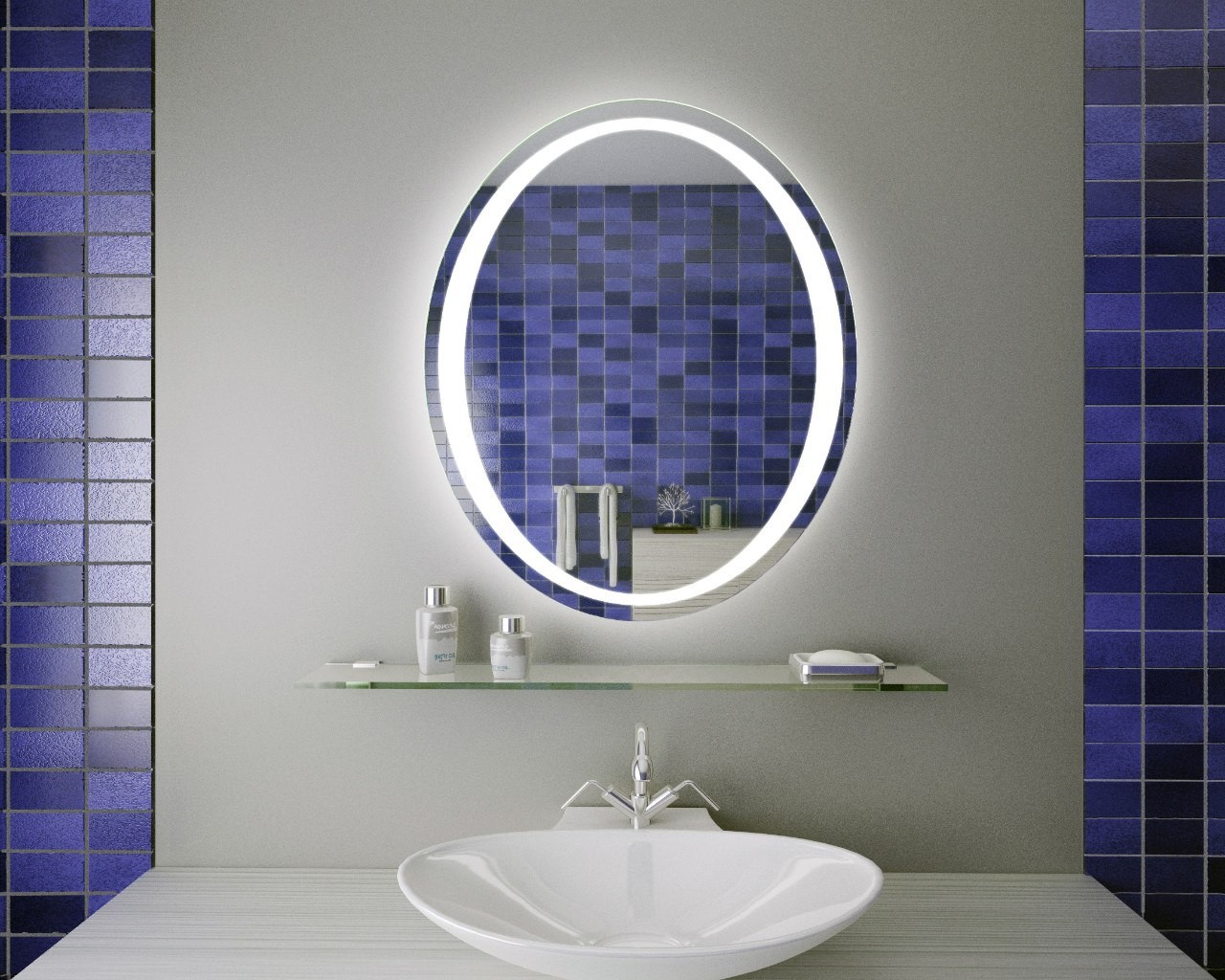 Choosing Led bathroom mirror ideas is one of the best ideas that you can use for making the bathroom more stylish & brightness, you can find contemporary designs of this type that will fit any bathroom style.
Latest Designs 2017
Inspiration collection of the best bathroom mirror ideas for making a luxury bathroom design, Check these out.