Bathroom Shower Ideas
The bathroom is the backbone of our home, it is necessary for every member of your family. No one could do without it as it is the basic part of our daily life. However, designing a bathroom shower seems to be a daunting task, but with our bathroom shower ideas, it will not be difficult; putting into consideration some essential elements you should think of when designing your bathroom. By these elements, you could create your own space where you could enjoy your shower in your bathroom scheme with different styles and budgets.
Therefore, talking about Bathroom should include luxurious designs, tiles, and curtains. Take a look at this selection of the best bathroom shower ideas for 2017. you will know what is the latest bathroom shower ideas and luxury designs to choose the best bathroom shower curtains.
Bathroom Shower Designs
This amazing design is designed for two persons. It is called walk-in shower where you could enjoy a large space. It consists of two rain-style showerheads at the opposite of each other. The window brings clear air and the light for the rest of the bathroom for more vividness. Its floor is not slippery so you are secured from falling accident. The most significant matter in this design is that its glasses keep the look open and airy.
This surprising bathroom shower is different as the tub and shower are placed within the glasses. These glasses are provided by some conductive materials by which the fog fills the glasses to provide privacy, and once the house-owner flips the switch, he/she could see the view once more. Most of all, this bathroom design is distinguished where you feel free, and where you could enjoy having a shower with marvelous bright views.
What an amazing design of Bathroom shower is!!, the skylight comes over the window as if you are having your shower outside. Surprisingly, this window provides a view of the nearby ocean. On the other side, the bottom of the operable skylight is placed at roughly shoulder height to maintain privacy. Moreover, the floor tiles mimic the sands of the beaches, while the wall tiles reveal the ocean's color.
Bathroom shower curtain
There are many patterns, colors, and materials for bathroom shower curtains available, you could choose the suitable curtain if you choose the materials, designs, and accessories that meet your needs effectively, so you should purchase a liner and a curtain to protect your bathroom from water damage.
Firstly, select a liner size to measure the shower in order to determine the size and the shower curtain to be fit in your shower for appearance and so it does its job of preventing water from escaping into your bathroom.
secondly, choose the liner material, the best materials are polyester and fabric because they are more durable and last longer. Also, Vinyl is good as it sticks to the sides of the tub to help prevent water from spilling on the floor.
Thirdly, choose a liner that prevents bacteria, this will be essential for you; especially if your liner in a humid environment or your bathroom is not included by ventilation.
Fourthly, coordinate with your bathroom shower curtain by choosing suitable colors for the liner to be matched with the curtain. For simplicity, you could choose a white liner.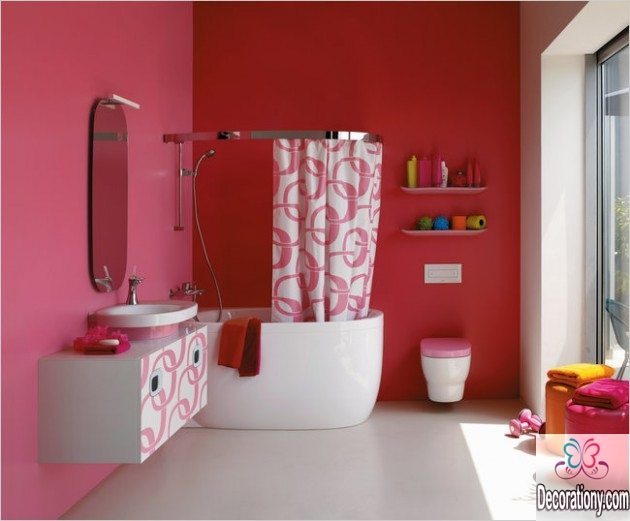 Fifthly,  decide the kind of the bathroom shower curtain you will use. Fabric in cotton or polyester is the best because they are soft and water resistance.
Sixty, pick the look you want by choosing suitable colors and designs according to your bathroom design; considering the overall appearance of it. For example, if your bathroom has a tropical theme, curtain with palm trees will be suitable for this.
Seventy, make sure to buy rings for the curtain and liner. On the other side, You could buy a hookless shower curtain that does not need rings.
Bathroom Shower Tile Ideas

Find out the latest bathroom shower tile ideas that will make your bathroom completely luxurious.It is important to know how to choose the suitable tiles for your bathroom, so we offer some bathroom shower ideas for tiles &  tips to follow when choosing the tiles:                                          
Many kinds of tiles are simple or solid, so choose bathroom shower tile ideas that fit your bathroom color scheme & designs.
Do not use more than 3 kinds of tiles, but these tiles should be suited to each other to give a colorful view at the same time.
Stick to one show stopper to make your look seems timeless and to create a wow factor without competing with other elements in the bathroom.                                                                                 
Using the right color combination will make any room look perfect, that is the most important bathroom shower tile ideas for 2017.