Bathroom Wall Storage Cabinets
Large bathroom or small, you need to have the right bathroom wall storage cabinets to get the most out of your space. Usually, small places require more effort to be able to store your daily used stuff without having the space crowded. Thinking smart through this process should save you much effort on cleaning and organizing the tiny stuff around the house. So instead of trying to stuff things in every storage through the house and not knowing where most of the things were stuffed. It might be the time to check out these 40 wall cabinets ideas to squeeze some extra storage out of your small bathroom!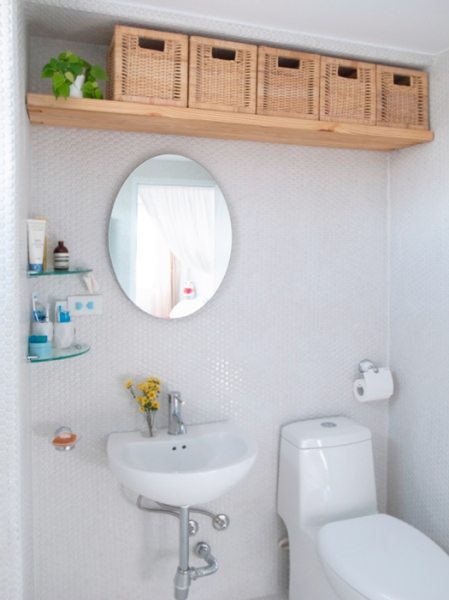 It's always possible to use the most of the storage of a small bathroom and still be stylish and clean. Baskets have proven to give much beauty and are becoming trendy nowadays. You can use the empty space above the sink & toilet to simply add a shelf or two and put baskets in it so you can use it as a stylish storage. Meanwhile, you can use small corner shelves beside the mirror to put your toothbrushes and shampoos.
Always consider investing in the small places the best way you can. We suggest using the inside of your cabinet doors as extra storage. This way your cabinets will not be crowded with stuff and will give you free storage to store anything without limiting yourself to certain places. Consider this storage rack to store your hair products or other items and check the below tips. and if you have small spaces try these small bathroom decorating ideas.
Wall Mounted Storage Cabinets
Although you might not be able to put usual or traditional bathroom wall storage cabinets. Because it will not only seem crowded and ugly but also uncomfortable. For this typical reason, we have collected 40 of the most clever bathroom wall cabinets design tricks only for you. We are certain these tips and tricks for small bathrooms will show you just how to organize wall mounted storage cleverly.
You need a smart organized storage to fit in a tiny bathroom without affecting your style. Check out these tips:
1. Instead of all the tiny stuff that are occupying your sink, use smaller cabinets. Smaller cabinets, fully mirrored with more drawers. Mirrors happen to enlarge the space and show a square, and the drawers will offer more storage for tiny stuff inside a single cabinet.
2. Give your corners a chance to help out. Use corner cabinets that will not chop down your bathroom's space and give you extra hidden storage places to use.
3. Don't neglect the space above your toilet. Do not underestimate a clever over the toilet cabinet that will save you space and effort. Otherwise, put two or three short shelves to store towels and toilet paper with a flower vase to brighten up the view.
4. Use the behind the door space or above to add storage shelves for other stuff.
5. A magnetic bar will be a smart idea right under your mirror to store makeup. Alongside with tiny metal body-care stuff. Don't want to stick it to the mirror? Hide it inside the door of your cabinet!
6. Use smaller objects in your bathroom. Choose smaller bathroom wall storage cabinets and lessen the objects as you can.
This clever wall mounted cabinet and shelves in one piece can fit easily in the area over toilet storage.
before you explore the best black bathroom wall cabinets designs & ideas, you can take a look at best tankless water heaters that will help you to save more space in your bathroom.
Black Bathroom Wall Cabinet
Black bathroom wall storage cabinets add a luxurious touch to any bathroom. Black always gives vanity and beauty to any place. Not only because it survives the changing trends and still be a vanity, but because it can fit into whatever interior style in the house! Black has proven itself as a vanity color for large places and also a small places companion. Black bathroom cabinets usually live longer than a traditional cabinet with flashy colors. check this collection of the latest bathroom colors ideas 2017 / 2018 trends.
Check out these small bathroom black cabinets and see how you can add elegance to a small bathroom with no effort.
Bathroom White Cabinets with towel bar
We have covered a few small bathroom hints and wall mounted cabinet designs, black cabinets and now, it's time for white cabinets. But first, some essential design tricks for small bathrooms.
You see, on small bathrooms, you should not be on the losing side. You get to save more money because you will use less material. And you will also seem less crowded with smart thinking. Consider these expert suggestions:
7.Avoid having anything that sticks out from the walls. It takes space and leaves the bathroom feeling even more crowded and cramped.
We do not need that. So in this matter, you will need to avoid decorative shelves -do not worry there are smart alternatives. Mount the towel bar on the back of your door instead of walls. Consider a built-in toilet paper holders or even built in storage or magazine racks. This would save you a precious square footage.
8.Invest in the ceiling by paintings to create an illusion of more space. If you happen to have a tall ceiling but small bathroom space, paint it a light blue with small clouds. This trick will play a big role in drawing the attention up and enhance the visual space.
9. Think big tiles when it comes to small places. The bigger the tiles are the bigger the illusion of visual space. The grout lines are the reason here, the farther they get, the larger effect they will give on the place.
10. Everything mounted to the wall. The smaller the bathroom, the more you want to use mounted cabinetry and toilet. The bathroom wall storage cabinets will show more walls and more tiles which will give the illusion of more hidden space than what appears.
11. Lessen the colors of your bathroom. The more colors you use the busier your bathroom will appear. And use bright colors, not dark ones to widen up space.
12. make it cute and chic instead of small and boring. by adding some texture to it. Add one unique element; one large cool mirror, a lovely piece of art or a funky sink.
13. Use a glass door that shows more visual space instead of using shower curtains. If you are not very keen about glass doors, you can use a clear shower curtain that lets the light in.
After you have seen plenty of these bathroom wall storage cabinets designs you should by now be able to choose the right one according to your style and space. Let us know your feedbacks on these ideas. However small or large bathroom you have, you could always benefit from the small bathroom storage hacks and tricks we offered you. Write in the comments section below what you want to read about in the next article!