The average cost of bathroom remodel ranges between $10,000 and $15,000, according to the National Kitchen and Bathroom Association (NKBA). However, the actual remodel cost of each bathroom varies depending on the size and type of renovation needed.
Remodeling a low-cost bathroom may cost at least $2,500, while a high-end bathroom or master bathroom may cost you around $23,000 or even more. That involves replacing all the essentials, but not changing the bathroom's layout.
Why You Should Remodel Your Bathroom
Remodeling your bathroom is one of the best investments that can increase your home's resale value. It will make your house sell faster since bathrooms are top priorities for most home buyers. Besides, it will boost your bathroom's aesthetic value and offer you comfort.
As you remodel the bathroom, you may consider adding energy-efficient features to help you save on energy and money. For instance, you can install water-saving showers and low-flow toilets because they consume less power.
How Much Does Bathroom Remodel Cost: Cost Breakdown
The overall cost of bathroom remodeling depends on many factors, such as:
Size (small, full, and master bathroom)

Local labor rates for remodeling

Quality of materials and fixtures

Layout adjustments, like changing floor plans

Type of appliances, finishes, counters, and fixtures used

Type of specialist hired to fix some materials
Average Cost of Bathroom Remodel Based on Size
Remodel Cost for a Small Bathroom
The average small bathroom remodel cost ranges from $2,500 to $10,000. Renovating a small bathroom may involve basic upgrades and economic fixtures. When complemented with some DIY work, it might cost around $3,000 or even less. Most homeowners usually spend about $125 per square foot for the small bathroom remodeling.
Full Bathroom Remodel Costs
Remodeling a full bathroom involves the replacement of almost everything in the bathroom, but not changing the bathroom's layout. The mid-range renovations may cost between $6,000 and $15,000, including upgrading the showers, lighting, flooring, painting, wall tiling, and fixing the mirrors and cabinets.
Remodel Cost for Master Bathroom
The cost of remodeling a master bathroom ranges from $10,000 to $30,000, with an average cost of $18,000. Upgrades for luxurious master bathrooms may even cost more money of up to $50,000. Some of the upgrades for master bathrooms include upscale materials, high-end fixtures, walk-in shower, freestanding bathtub, lighting, and flooring.
Bathroom Remodel Labor Costs
When hiring a bathroom remodeler, you will spend around 20 percent of the total remodel cost on labor. However, the average labor cost of a standard bathroom may cost between $1,300 and $4,300. Some bathroom remodelers often charge labor costs on an hourly basis, depending on the area of specialization.
Labor Costs when Hiring Specialists (Per Hour)
Bathroom remodeling is one of the costly home renovation ventures as it involves a vast range of services. The table below shows the labor costs per remodeling service on an hourly basis, including plumbing, electric wiring, painting, and drywall installation.
| | |
| --- | --- |
| Remodel Services | Average Costs (Per Hour) |
| General contractor | $30 – $90 |
| Plumbing costs | $45 – $150 |
| Electric wiring costs | $40 – $100 |
| Drywall installation costs | $30 – $50 |
| Painting costs | $20 – $50 |
| Interior designing costs | $50 – $200 |
Average Bathroom Remodel Cost per Square Foot
The average bathroom remodel cost per square foot ranges between $120 and $275, depending on factors like the hiring location and quality of fixtures and materials needed. However, you'll spend less when you opt for a DIY bathroom remodel ($70-$100 per square foot). That's because you don't need any experience to upgrade your bathroom.
Cost of Bathroom Remodel Materials and Fixtures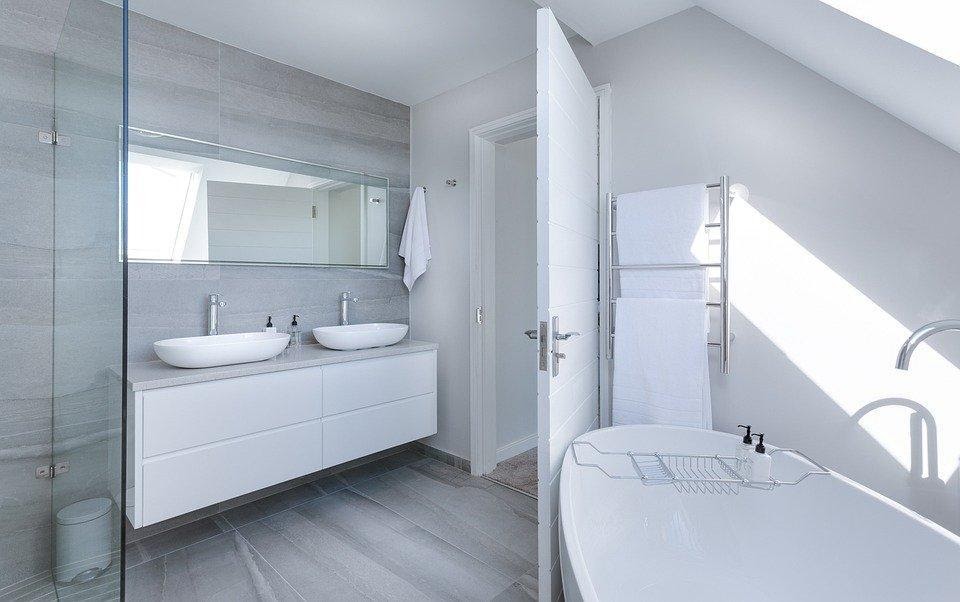 The cost of materials and fixtures used in bathroom remodel varies depending on quality. Generally, the remodel materials usually take 60 percent of the overall budget, and that's between $2,000 and $10,000 depending on the size of the bathroom.
A popular material that can make your bathroom looks beautiful is the countertop. When upgrading your bathroom, buy a countertop that fulfills your bathroom's aesthetic needs. Thankfully, Caesarstone's bathroom countertops are one of the best in the market. 
You should note that the countertops' prices range between $200 and $1,000, depending on the material of the countertops. Some of the most popular materials used in bathroom countertops are quartz, marble, stainless steel, glass, laminate, and granite.
Here are is the average cost of fixtures and other materials used for bathroom remodel. The prices don't include the installation fees.
| | |
| --- | --- |
| Items | Price Range |
| Fixtures (sinks and toilets) | $300 – $2,500 |
| Showers | $300 – $3,000 |
| Bathroom vanity | $300 – $3,800 |
| Lighting | $100 – $400 |
| Bathroom fans | $50 – $300 |
| Flooring | $300 – $800 |
| Doors and windows | $200 – $1,800 |
| Paints | $50 – $200 |
| Faucets and plumbing | $400 – $2,000 |
| Bathroom mirrors | $30 – $500 |
Bathroom Remodel Cost when Changing Layouts
Upgrading your bathroom can be relatively affordable when doing some basic upgrades. However, changing the bathroom's layout can spike up the cost of labor and materials, regardless of the bathroom size. To change the design, you need to plan for all the costs.
Changing the bathroom's layout involves relocating the toilet, bathtub, or sink within your bathroom. You will also have to change the bathroom's plumbing, necessitating the need for a plumbing specialist. That will also attribute to a high remodel cost.
A professional plumber would charge around $60 – $75 per hour to shift the bathroom's fixtures. Moving a single fixture like a toilet will cost about $1,000 while relocating all the fixtures (toilets, bathtubs, and sinks) may cost around $2,500 – $3,000 or even more.
Final Words
Remodeling an entire bathroom can be quite overwhelming, especially if you don't have enough funds. Notably, you can still renovate the bathroom in stages, depending on your priority list. You can upgrade what you need urgently and then add some features later.
When upgrading or renovating your bathroom, you should hire professionals licensed to provide services like electrical work and plumbing. Also, buy quality materials that will last longer so that you won't incur another cost for installing new ones after a few years.