Donald Trump's House
Donal Trump House Interior
Truth be told, the $100 Million Dollar Donald Trump's house is richer than the White House! His masterpiece apartment is possibly proven to be "the greatest apartment in the world" based on Trump himself, and I believe nobody can deny that! It may have been hard for him and his family, especially his teenage son, Barron, to leave this high-maintenance house moving into the White House.
Trump's penthouse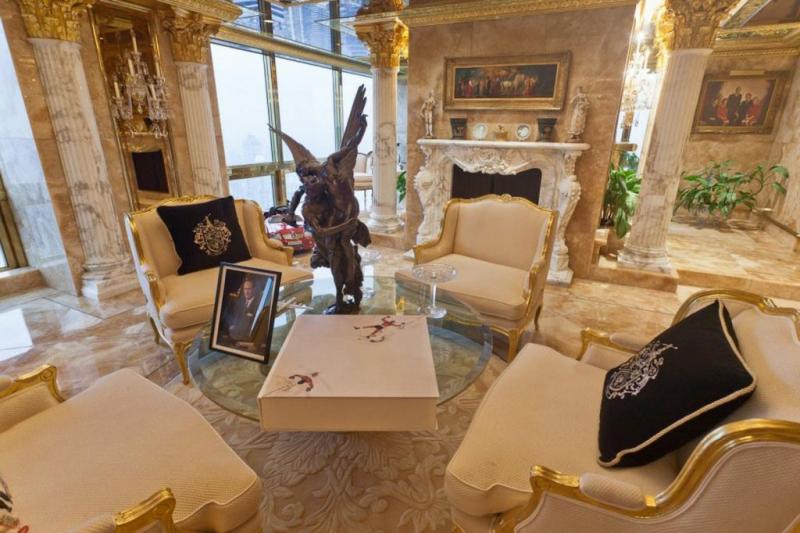 Trump's lush life lead to the white house.
His triplex apartment lays inside the Trump Tower in NewYork city on the 66 floor consisting of 132 rooms on 18 prime acres.
The View is of the most stunning in the world of  Central Park and Manhattan skyline
The house has the most precious design and decoration, of course, since gold and diamond is all over the place starting with the front door, crusted with gold and diamond.
The interior design of his house is marvelous and totally professional, the ceiling is designed with the unique details inspired from Greek Classic Mythology.
The sides and columns are covered with marble, while the columns' crowns, crystal, dishes, and vases are crusted with pure gold.
Donald Trump's house was made by the greatest interior designers between 1970-1980 Angelo Donghia.
Le'ts do not forget about the architectural statues in every room of Donald Trump's triplex.
Since their tea cups are gold-plated and put even put on golden plates. The family symbolizes the saying "he was born with a golden spoon in his mouth"
Furniture and decoration detailed with pure gold. The statues are present in every room in Trump's triplex.
Looking at the below picture, Barron was shown wearing a miniature white terrycloth robe in 2011. While later in 2016, Prince George was seen wearing it in his meeting with the previous president Obama.
9. Barron totally fits the saying "Like father like son" as the son has his name written on his specially personalized Mercedes. His own toys, cars, and T-shirts also carry his name in order to personalize him and his properties.
10. Still, Trump's luxury house isn't the only thing of his many fancy properties. The Mar-A-Lago 80,000 square foot in Florida was Trump's winning card after he bought it for $5 Million Dollars in 1985
The lush life is made for only a few people in this world, and Donald Trump is the only one in the world who can live it right!