Backyard ponds
If you want to turn your backyard pond into an oasis. Try to plant some shade-spreading trees, some colorful flowers, even a herb garden or some shade foliage. But having a backyard pond is definitely the only thing that will give the right effect. You can make it the focal point of your backyard and surround it with everything you can imagine a bench, a few garden chairs, or you can plant a wildflower garden according to your personal taste.
Most backyard ponds are not very large In fact, they are usually small, just enough to create a particular atmosphere.  They can be built on the site, or they can be purchased at your local hardware store.
Backyard pond ideas
Each of these backyard ponds ideas that we will show you could be a great choice. You can go for a naked pond, or you can add fish, frogs, rocks, and with the vegetation around them, you will guarantee permanent visitors of birds and butterflies. and you can find out here best backyard pool ideas for any spaces.
You can choose the modern backyard pond type that has a waterfall and large steps that allow anyone to walk across the pond to the rest of the garden.
The koi pond in the backyard is an amazing choice to your house.
The small rectangular pond in modern backyard breaks the concrete patio and creates a focus in the area.
Small pond adjoins an outdoor lounge and fireplace backyard will give a relaxing touch and contains beauty.
Small pond with a water play and the dining area outdoors is perfect to those who have kids.
Use some of the cavernous white rocks with lavender flowers around the pond to enjoy the scent of lavender.
Layered Rock Waterfall gives the pond exactly what it takes to soothe and relax.
Beautiful water lilies, tall grasses, and beautiful tropical plants will give the pond the feeling of wild.
Backyard ponds and waterfall
Backyard ponds are a great addition to any garden. They add hours of fun and entertainment to the family and friends. You may wish to add a waterfall to the pond, it will simply look beautiful.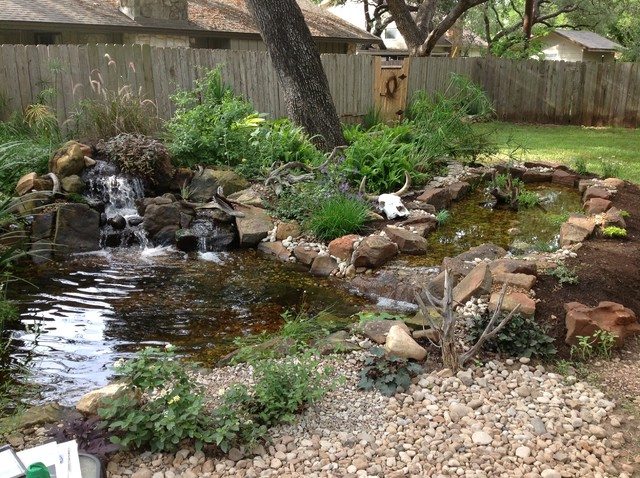 The sweet sound of water dripping over the rocks can seduce many gardeners in building their own cascade waterfalls. Waterfalls also can add precious oxygen to the bubbling water it over the rocks. However, if you want to install a waterfall you must consider, the total size of the pond, appropriate water pump, contacting an electrician before installing any cabling near the waterfall, and choose a few cascading rocks and boulders in a range of sizes. Use a mix of flat and round rocks. Adjust these later when the water flows for better effect. Avoid sharp rocks that could puncture the lining. Select edges of plants and shrubs from a garden center to align the waterfall.
Backyard duck ponds
Duck ponds are the pure meaning of having fun. If you could have one in your house it can really change the atmosphere and you will be no longer in need to have a pet, the duck will act like your best friend.
Backyard ponds designs
it doesn't matter what design of pond you will choose as long as it fits the backyard. You can choose between so many designs the ring shape, rectangle, square, stonework, or modern design choose what suit your home style and enjoy it in your backyard. you can explore smart small backyard ideas that actually work.