Painting Ideas
Hi everyone, today, in this article we will review in detail the latest trends in wall painting ideas 2016 through images and some ideas and tips that will you need. Especially if you are choosing the bedroom, living room or dining room color. This article is divided into three parts, first ideas for bedroom painting colors and part 2 of the living rooms painting ideas and part 3 of the dining room, and through these parts, you can identify and pursue the part that you are looking for ideas and tips with ease. Just follow the article to the end.
From the basics of establishing the home decorations or anywhere else is choosing the walls colors. That will be decided of the rest of the room décor as furniture, curtains, rugs and accessories… Etc
Often we are confused when selecting the color of the room and Wonder what the best and most suitable colors for the room?
For answering this question, you must know the nature of the place, and is an area narrow, small or large. That is the most important thing to keep in mind before choosing the color of the room because their colors to increase space limitations and other colors more spaces.
Also the nature of the room in terms of use necessary before choosing the color of the room, if you choosing the office room painting ideas, for example, would certainly move away from the disturbing and exciting colors, Office room location needs to be calm, rest to help concentrate while working and prevent distractions such as white and off-white, unlike the living room paint ideas which suited all colors, so that was exciting.
There are other rooms have private nature such as children's rooms these rooms radiate vitality and activity and energy by matching more vibrant colors such as blue, pink, yellow and green. Etc, but differ regarding being a boy room or girls room colors. Often prefer to stay away from white color when choosing kids bedroom paint  ideas because this color is muted colors don't fit children and their vitality.
Now let's suggest ideas appropriate for each room by photo gathering 55 pictures for painting ideas of the bedrooms, living and dining room:
Painting Ideas 2016
First: Bedroom painting ideas 2016:
Here are 19 pictures for bedroom color ideas to suit all tastes.
The bedroom is one of the most important rooms in the House where they place of rest. Choose the color of the walls of the bedroom plays a key role in determining the internal design of the room. In order to achieve the purpose of "comfort" bedroom must choose suitable colors and comfortable to the eye and soul and get away from the annoying and grainy colors even if spread among the latest trends in opens for 2016
 Without a doubt, affect our colors and our moods. We have conducted many scientific types of research on this topic and was split colors of two types "Warm colors and cool colors."
Through the following photos exhibiting colors of bedroom and explain their effect on mental energy
Warm colors "red-orange-yellow" and  Cool colors "Blue-green-purple":
The red color of strong colors and increases the blood pressure and heart rate and appetite, and gives a sense of romance and energy, so it is very suitable for couples
Grey bedroom painting ideas are called a compromise between black and white colors. Some see tends to be dark if tragic because it tends to black, if shiny and with lighting and nearby silver and white have a different effect. Here some ideas for the grey bedroom.
Blue color simple and perfect for youth and children's bedrooms. But with this quiet, beautiful color has a big drawback is, It reduces the appetite for a few foods that contain blue is not suitable for dining rooms.
Wallpaper can be used as an alternative to paint color in bedrooms, features a wallpaper with the presence of forms and colors and different designs suitable for bedrooms and makes the bedroom colors look more elegance and beauty.
The brown color is realistic and stylish and shows stability and has an impact on the strong sense of duty. The need for security and a sense of belonging, it is very convenient for bedrooms and couples urged psychological stability. One of the best selections of bedroom painting ideas is brown with his gradual advance or progress such as ivory, gold, and beige
Purple and pink painting ideas: It is ideal for children's rooms, but the young are not obligatory but with a backdrop of pink to the color makes it acceptable when some of them.
Also, for kids bedrooms may apply the same previous ideas in choosing kids bedroom colors with some variations that suit the nature of vital and active children needing delightful bedrooms, colors are bright and can choose some colors and shapes children's bedrooms which feature a child centered around graphics as wallpapers with cartoon characters.
Living room Painting Ideas 2016:
The living room is a shared space, especially if you live with your family. You must choose walls Painting ideas of the living room according to the tastes of the entire family. The colors have the ability to create different atmospheres,
White and gray colors and natural form the basis for walls because it is easy to harmonize with modern furniture, classic. Like the light, colors give a feeling of space and light. While blue and green colors are cool colors, are ideal for a peaceful and relaxing interior.
It all depends on your taste and preferences are appropriate for you and your family.
Living rooms are the comfortable and relaxing area. This effect can be achieved easily in warm and natural paint colors such as beige, light gray, and Brown these colors are earthy colors and very soft and comfortable. You can use the Green paint color or pastels to the living room is another good option, especially for nature lovers. The most important thing is to take into mind the function of the room and the effect you want.
Purple painting ideas so modern and suitable for modern living room and give vitality to the place.
Green and blue are considered a positive color that inspires peace and coexistence.There is a multitude of shades of Green: Olive, aniseed, Emerald,… Green is a color directly related to nature and all its nuances, many and varied, reflecting natural, everyday objects: plants, the fruit or vegetables! This color is symbol 'naturally' growth, life and harmony.
Grey classic colors in the living room. Neutral Color suitable for with the black furniture and white furniture or other colors. A very successful choose
Everyone knows that colors have effects on our mood and can even affect temperament. But know that all the colors green and blue have calming effects, therefore, ideal for the living room. You can use it to focus in the room and paint one wall. For example.
Pink is the color of the delightfully denotes happiness and pleasure and. Therefore, many people prefer it. It is also suitable for girls and teenagers bedrooms.
Now 20 Dining room Painting Ideas 2016:
You don't need to study the internal engineering to learn best ways and methods for choosing decorations and colors, dining room walls professionally. Here we offer you tips on professional methods to choose dining room designs to convert outstanding oasis of elegance and comfort.
The dining room one of the main rooms of the house and include aspects of hospitality and family gatherings, and may sometimes overlook the importance of taking care of decorative dining rooms opposite the living room.
And to get the distinctive dining room we will give you necessary 10 tips for dining rooms painting ideas and decorative ideas, make you design a room pragmatic:
1. If you choose modern furniture, you can use two type of chairs or two colors chairs, which gives a modern touch to the dining table! Use one of the chairs colors to wall painting such as the main wall of the room.
2. in some houses have open dining room onto the living room, and here must be coordination between the rooms and the use of common or similar colors. The dining room is created so that it looks like a natural extension of the living room regarding style and colors of the walls. In such designs, the rooms open to find that neutral colors like beige, Brown and gray are best to achieve homogeneity.
3. If the area of the dining room table with a circular shape were chosen or oval in shape, the rectangle would not be feasible in a small dining room where hampers movement. He chose colors for light walls give a feeling of more space for Stay away from dark colors to increase the space limitations.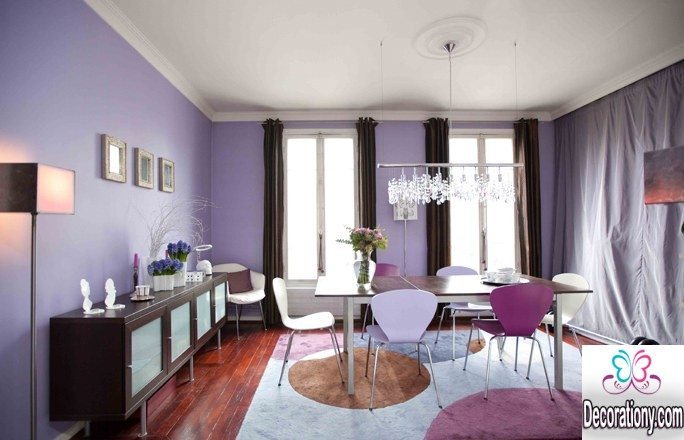 4. choose designs seats to provide comfort while eating at the same time elegant and not drift behind the modern designs that may be impractical and uncomfortable, try as much as possible coordination between dining room chairs and wall colors
5-you must choose the appropriate furniture for the room, taking into account the blanks to be in place, for example, you should leave at least 70 centimetres behind each Chair, and 60 inches between the chairs if no side arms, to determine the distance between each Chair and another B 15 centimeters when having side arms to them. These vacuums allow natural movement without the inconvenience of sitting. Depending on room size.
6. when choosing a dining table covered with wood veneer, you should avoid spills, exposure to the Sun so as not to damage and the damage is irreparable. Accessories can be used on the table or use a color table cover consistent with the color of the chairs and the walls.
7. must be choosing dining tables from tolerances materials and the moving away from modern forms without thinking in glass or metal ores in abundance because it may not fit your needs and the needs of your family and your guests.
8. in the small dining room size you can use the dining table that can be joined and opened to provide a venue and is the perfect solution to solve the problem of space.
9. use mirrors in the dining room decor to give broad and luxury . Especially if the room was narrow or small space, mirrors doubled the size if you put it in place correctly highlights the room. 10. avoid using sharp angles, dining tables are dangerous to children and adults, as well as tables with glass surfaces porous installation.
10. avoid using tables with sharp angles, dining tables are dangerous to children and adults, as well as tables with glass surfaces porous installation.
Now review with you  a group of dining room painting ideas:
white dining chairs with beige wall paint color.
Harmonic with dining chair and wallpaper color in red.
Gray dining room furniture, rug, curtains, and wall painting idea.
With the arrival of winter rains, starting problems leaking rainwater from the roof which Causing harm and damage on the walls  painting and furniture,
And in the end, we recommend several things to keep the walls of the rooms in the winter and avoid moisture problems that cause damage to the walls and also for furniture:
1. you must check the status of the insulation in the walls of the House, to be solitary and without any cracks.
2. you must make sure that the roof diverts the water well without forming pools.
3. do not wash the walls with water to prevent wall cracking or fading.
4. it is preferable to use a damp cloth to wipe the walls or a sponge with a little soaps and water if there are patches.
5. repair any damage in the wall first to maintain the wall as long as possible in good condition.
In the end, we hope that you like the article and don't forget to share the article with your friends on social networking sites. We are waiting for your comments and feedback on the article, and we are pleased to communicate with you to provide everything that is best and useful.