L-Shaped Kitchen
If you are seeking for the best L-Shaped Kitchen Designs & Layout, Follow these inspiration ideas & tips help make the best L-shaped kitchens. You can find the latest design trends for (L shaped kitchen with island, layout, cabinets, rugs, table, and L-shaped kitchen/diner).
Find the most popular l-shaped kitchen designs for 2016/2017, smart design ideas & suggestions to add a luxury to your kitchen interior design. Using L-shaped kitchen allows you to have a large working space to make cooking easier and you can invite guests into the cooking area without the annoying of the narrow spaces in traditional kitchens. Also, it will be perfect for kitchen/diner with island and modern tables. you can find more interesting 2017 kitchen trends will help you to find popular ideas.
L Shaped Kitchen Designs & Layout Ideas
Take a look at the best designs & practical layout ideas for any L-shaped kitchen you are seeking, Modern designs for small l-shaped kitchen designs, ideas, kitchen with island, and L-shaped kitchen cabinets. Browse the following collection of the latest design trends and kitchen colors 2017.
L-shaped Kitchen Layout Ideas
Reading this will help distribute space in the l-shaped kitchen, use planned kitchen layout as required, you know that the central area is cooking or preparing food, so it`s a workspace have to be wide enough without wasting the kitchen space. Kitchen sinks, refrigerator, and pantry cabinets we suggest to make it always in a perfect conjunction.
You can read how to distribute space in the kitchen from Marcenaria.
L-shaped kitchen with island
The L-shaped island design fits quirky spaces, and it will not be a huge obstacle anymore If you use L table open underneath. Using flat-panel cabinets and kitchen backsplash ideas mosaic tiles will be perfect.
L shaped Kitchen Cabinets
You will find a lot of kitchen cabinets creative designs that will fit yours; design experts make these cabinets more space-saving and practical because of the flat-panel cabinets will not wasting spaces. Find more in the following models.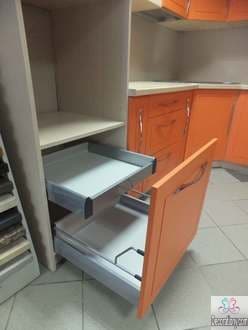 Small L-shaped Kitchen Designs
If you have a small kitchen area So, the L-shaped layout is the right choice to save space for the kitchen; You have to choose functional furniture that will give you huge storage places and the minimal space using.
L-shaped Kitchen/Diner
The eat-in kitchen design is perfect for small spaces, and if you use it with open-plan kitchen-diner make an easy living. It`s all about having a space to cook, eat, dining with family.