Steampunk Decor
Find out what is steampunk decor? With Best steampunk home decor ideas, victorian steampunk decor for kitchen, living room, bedroom, bathroom. Unravel everything about the uncommon steampunk decor style and get inspired by these steampunk decor ideas, interior design, colors and Victorian steampunk style.
Every homeowner wants his own steampunk decor distinguished from other houses. Don't you want brilliant expert tips from our team? Using steampunk decor to transform your place into a special vanity. We will give you the chance to easily use this elegant type of decoration efficiently.
What is steampunk decor?
It's a special interior design style. An elegant mix of designs after the industrial revolution and the Victorian noble style. This type of decoration makes you travel through time to the Victorian era decor. Every item in the steampunk decor type is inspired by this era. Now let us start building your own time machine with the following steps.
 Steampunk Decor Ideas
Use the old furniture to give your house the look of the noble's houses in the Victorian era. Act creative, and don't be shy.
You can definitely use this type of design to decorate all the house but, if you must choose between rooms it will perfectly fit in your living room.
Use wallpaper that fits the Victorian era decoration.
Consider brown, sepia, cream, black, dark red and dark green colors to paint the walls.
A terrestrial globe and wall maps would be perfect to complete the design.
Books covered with leather and old gears will add the Victorian spirit to the design.
Add some images with black and white effect in old frames and framed herbariums on the walls.
Leather and dark wood furniture is the most matching to steampunk interior decoration.
Use copper and bronze items to enhance your décor.
Consider some curtains with a Victorian pattern.
Antiques and classical furniture are, of course, your central pieces when talking about steampunk décor.
Steampunk home decor
1- Steampunk living room
Use the parquet floors and old carpets with some copper antiques and classical or leather furniture. Using the neutral colors like gray and beige on the walls is the best choice, and for the curtains choose dark red to add a unique appearance to your living room.
The interior corridor must also have a touch of change. You can always use a quiet lighting with some old frames and photographs on the walls.
2- Steampunk bedroom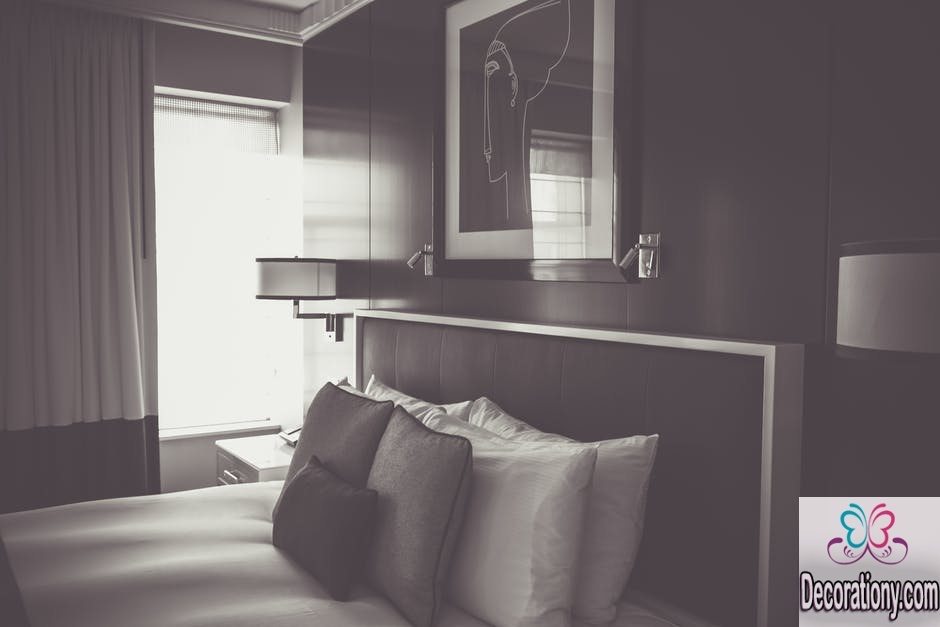 Double Bed with dark wood, bed covers with rose patterns, a chandelier of crystal with old thick curtains and candlesticks will make your room design simple and cozy. You'll feel like you're living in an old movie. How cool is that?
3- Steampunk bathroom
For the bathroom, white colors and some ceramic pots and curtains decorated with flowers would perfectly match with the rest of the house.
4- The children's room
This might be the easiest room for steampunk decoration. You should add a telescope in the room, trains for playing and decoration. Also, an old toy box in the room would match the decor and make it appear like the kids' room from old movies. Don't forget to hang a large map on one of the walls, that'll match it with the other rooms and yet give it a cozy feeling!
5- Steampunk kitchen
Use opened white wardrobe to store and display dishes and cooking utensils and use copper pots to reveal the old beautiful decor in your kitchen.
6- Steampunk Wall Decor
Watch these steampunk wall decor ideas and don't hesitate to pick any of it!
7- Victorian Steampunk Decor
See more of our picks for interior house decoration!
Steampunk Style
People have known a lot of interior house designs and styles over the years. However,  between the different styles people adapted, steampunk decor remains one of the uncommon styles despite its uniqueness. We could say that it has its special seekers or fans, which is a good thing meaning that not everyone understands or goes for that kind of splendor.
Let me introduce you to this amazing steampunk interior design. Of course, when I say the word steampunk, you recall the Victorian era of the 19th century. Well, it's true. The Victorian period was the porn of this marvelous design. Yet Steampunk is actually a mix of two, elegance, and machinery. Until this day still, the style makes its way into the interior design industry as a sign of richness and luxuriousness.
Bring back the richness of old days into your house today with these cool steampunk decor ideas.
Steampunk Colors
If you're wondering how to turn your house interior theme into a steampunk vanity, I advise you to first think of the color schemes. Thinking of this will open up a lot of doors to your sight. You'll be able to define the furniture type your theme requires according to the colors it should match with especially if you already had them. It will shorten the way for you.
When thinking of the color schemes for this theme you should know that this scheme best goes together to create the steampunk theme that you want: Metallic tones, Copper, Bronze, Dark Wood, and Leather. Even if you didn't know before, you must have realized the repetition of these colors on the steampunks you've seen so far.
So now to make sure you get the idea of the color scheme. take a look at the furniture in the below picture.
You could see the leather chairs combined with an unordinary dark wood table beside steampunk brown furniture pieces. The wooden floor and surface also give you a hint to the theme. You can also see the copper chandeliers and the country rug laying on the floor. This decor is the perfect reference for steampunk interior design in my opinion.
Consider also these colors as they surely match the color scheme you're looking for:
Gray
Browns
Creamy
Burgundy or deep red
Deep purple
Black
Navy blue or grayish blue
Let me tell you why these colors have been used for ten years since the trend's appeared. They perfectly make a steampunk decor richer. I'm sure you'll find your peace matching two or three of these colors in your decor. Don't forget to give me your feedback as always!
Steampunk accessories
Using pipes and metallic pieces with bronze, copper or black is your perfect choice. Take a look at the above steampunk bookcase, that is no ordinary bookcase and I would definitely fall for it if I had an interior steampunk design.
Okay, you need to pay attention to the details in these pictures unless you wanna fall for steampunk furniture pieces that don't match together!
First of all, in this picture, the pieces that look old, doesn't have to seem old fashioned! The picture you're looking at right now is a steampunk decor ideas 2017 trend, my friend. The details we say, a dark leather bed lying under a black metal chandelier. There's an old travel bag lying on the floor. Honestly, I don't know what that for, but looks pretty good following the theme and lying there patiently!
The big windows and the books & that huge box above them are giving a huge hint to the steampunk we're looking for. They also didn't forget to add some greenery.
Take a look at the below steampunk gallery we made for you with the best steampunk decor ideas to help you in making perfect steampunk style.
Steampunk Decor Ideas Gallery