Living Room Colors
The living room is the main interest for everyone starting from homeowners to decoration and interior design experts. Especially when it comes to choosing living room colors. The latest living room color schemes 2017/2018 trend comes with rich colors symbolizing the modern life and its connection to nature.
It's not only about living room furniture sets that will make your living excellent. But you also have to choose harmonic colors in the living room to make it both stylish and relaxing. You have to take care of every detail in the living room starting from walls, ceiling, flooring, furniture, mattress, curtains to the chandelier. However, you have to realize that choosing your living room color schemes and decorating it does not only depend on modern furniture. If you want to decorate a modern living room well, you have to take care of its colors as well. For the colors of your living room plays a big role in showing the entire house's personality and could change the whole way a piece of furniture looks.
Living Room 2018 Pantone Palettes
Using one color for the living room is not a smart idea nowadays. There are a lot of inspirational living room color schemes that are topping the trends list for 2017 and are guaranteed to stand the 2018 trends too. Read along to know what are these color schemes and why are they getting even more trendy on 2018! Sherwin Williams predicts the 2018 color palettes will include: affinity, connectivity, and sincerity.
Affinity consists of striking blue alongside with fuchsia, and brown. Resembling the new lifestyle of people's connection to technology as well as e-learning.
Connectivity is more into orange, blue, green and yellow. The new palette, connectivity is a modern & playful scheme that is full of dark watery blue tones that best balanced with neutrals and warm energetic yellow & purples.
Sincerity is about creating a harmony of neutral tones, hazy greens, and pinks. Do not get too worried about sticking to a strict color scheme, simply let your colors harmonize together and blend into one another.
Living Room Color Schemes
Always consider using beautiful living room color schemes that give comfort and reflects your personality. That way your living room will feel like home and will easily impress your visitors. You want to take care of the combinations of the living room color schemes starting from walls painting, ceiling to the furniture colors.
Whether you like Pantone greenery or not, you still have four months of it until they declare the new color of the year! Check it on the spring 2017 color trends. Leatrice Eiseman, executive director of the Pantone color institute reports that home accents are nowadays going over to neutrals more than the shiny metals we saw in 2016.
The color scheme trends for next year are going away from 2016's pastels (serenity & rose quartz) to more vibrant hues. Eight palettes are revealed by Pantone as the new year's trend. Vedure, playful, discretion, TECH-nique, far-fetched, resourceful, intricacy, intensity. These colors are predicted to stand for this year and the next. For more colors check the below palettes for this year only!
1.Vedure: Includes colors inspired from nature: Celery, robin's egg blue, and berry purple. "A symbolic of health," says Eiseman.
2.Playful: Minion yellow and lime popsicle are two interesting fun colors that you definitely do not take too seriously. But surely are durable.
3.Discretion: When adopting this palette you better think of more desaturated hues, like Hawthorne rose or elderberry. The original pink color tones and hues have become more powerful than ever. 
4.TECHnique: Using pink, purple hues, and turquoise alongside with frosted almond and a touch of white. You create the perfect interior palette reflecting the influence of technology.
5.Far-fetched: Using this scheme on interior design shows a reaching out personality with a warm embrace to different cultures. Rooibos Tea and Cornsilk Yellow are the main colors for this scheme
6.Resourceful: Blue and orange, a combination of energetic and cool tones that grabs the eye's attention.
7.Intricacy: Some drama given into yellow sulfur with holly berry red for the love of neutral metallics the upcoming year.
8.Intensity: This one shows balance and depth between power, strength, and sophistication. Gold and black can always win the list.
Living room color scheme trends 2017 to 2018
Thinking about what color schemes to adopt this year? If not too excited about next year's expectations and do not want to prepare for it yet. Take a look at 2017's gorgeous palette. This color scheme is actually not going out of trend for the next two years and remember my words. For it's calming and relaxing feeling many homeowners love to show their love of ocean on their homes.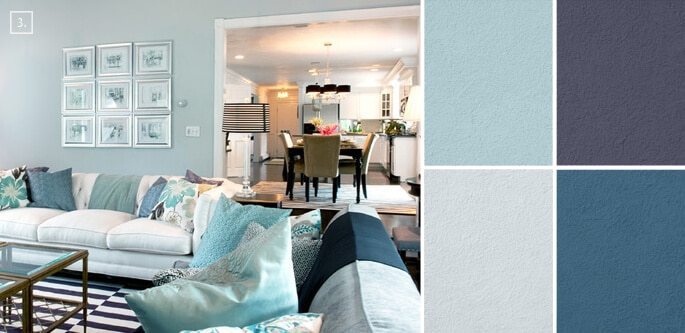 These are a collection of the most trendy and expected colors for living rooms this year and will stand as bright for the next.
Beachy Colors: Dusky Blue
Intended to recall the ocean & beach colors for the living room in walls and ceiling.
Blue Green
Adding more drama in your house, you should use blue green for that will be the right color to use.
Acid Lime
Will you be brave to use that color? If you notice, it's not very far from greenery! And it is still the color of the year! You can also have a touch of acid lime on furniture or walls instead of the whole living room.
Taupe beige and earthy green
By using taupe beige in the ceiling and adding some white color, your room will have a unique and bright appearance. Use Earthy green color on the walls alongside with beige tones and your living room will be flourished with nature.
Living room color schemes gallery
Take a look at this gallery of the most popular colors for living room with this selection of best color combination. The living room color palette will help to make your room most beautiful & contemporary to future trends. Find out best living room color palette including turquoise and shades of gray. You can use your favorite color with the sofa pillows but try to keep on the harmonic color combination.
Post your vote in the comments section below.
What is your favorite color for living room?