Today we are going to talk about kitchen before and after. We strive hard to show you that you can make spectacular reforms without spending much money or to do uncomfortable and dirty works that even force you to move temporarily.
Kitchen before and after
Today, there is a wide range of materials and techniques that allow us to carry out interesting reforms without using cement or having to chop floors and walls. With the new techniques, you also do not have to spend money and to deal with the debris that entails of chopping floors and walls. For you to see it more clearly, we will try to show you kitchen before and after.
So what do you do if the current kitchen does not look as you like, but is technically still completely in order? As is often the case, there are also various possibilities for changing the overall appearance of a kitchen.
Kitchen before and after ideas
I think the easiest way to have a new look for your kitchen is to get rid of the kitchen cabinets. As you can see in the picture above, the owners of this kitchen decided to increase the space in the kitchen by replacing the top cabinets with those amazing open shelves. The open shelves changed the look permanently. They also painted the bottom cabinets with unexpected color; they painted it with black instead of the natural color of the wood. Unlike the normal idea when anyone needs to increase the space they usually opt for light colors. but even when they used black the final look was amazing, the contrast between white and black has given the kitchen an incredible new look. As you can see the idea was really simple and I think it is also low cost.
The other way to change the appearance of the kitchens is having a new island in the kitchen. Unfortunately, this kind of ideas does not match all kitchens. The kitchen island is perfect for the medium and large size of kitchens.
Kitchen makeovers
Kitchen makeovers are like a new life for your kitchen or at least almost! According to surveys, each homeowner buys an average of 2 times in life a new kitchen. In addition, the purchase of a kitchen is associated with no quite negligible costs. For this reason, it is advisable to think carefully when making some kitchen makeovers.
To avoid the mistakes when planning, we have combined some of the common mistakes and better solutions for it so that you can enjoy your dream kitchen for a long time.
The measurements
The measurement of the kitchen space can't really be exact enough if you take it by yourself. Every millimeter is important here. In addition to a have a true kitchen makeover there should be one or more sketches with all existing elements such as windows, doors, heating, possibly wall protrusions, plug-in sockets, as well as water and electrical connections. Most complaints will end up with measurements mistakes. For this reason, we strongly recommend that you have this carried out by a specialist.
The wrong kitchen shape
Depending on the room size, local conditions, open or closed kitchen, certain kitchen shapes are better than others. Here you should not rashly choose. There are basically 6 different kitchens Partial kitchen line, second-row kitchen line, L-shaped kitchen, U-shaped kitchen, G-shaped kitchen, kitchen with Island. So, try to find the best kitchen shape for your kitchen.
The heights of kitchen before and after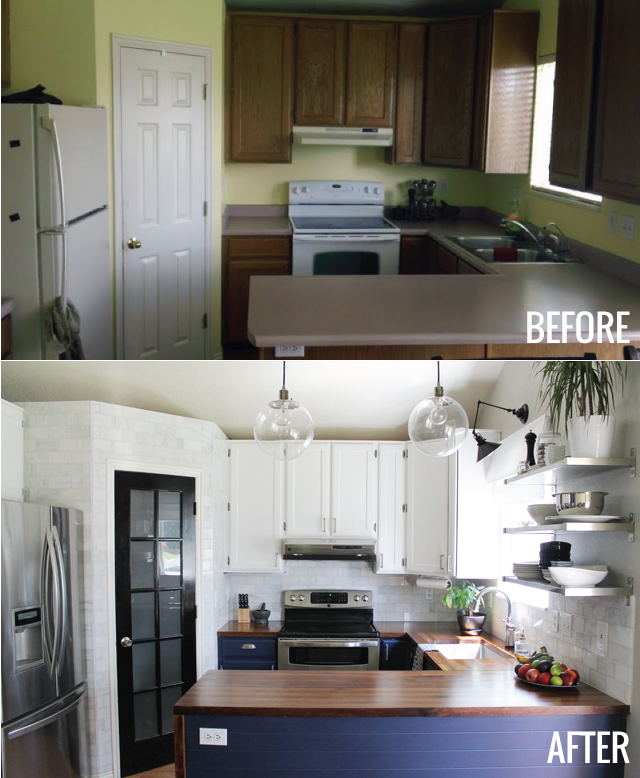 You should not underestimate a thing in kitchen planning, so, choose the right working height. The height should be directed to the person who spends most of the time in the kitchen. If the working height is too low, back pain can quickly build up and the enjoyment of cooking can be impaired. It is important to know that the stove should be lower than the sink.
Insufficient working area

Cooking is only fun if you can spread a little. Nothing worse, than the time when one no longer knows where to put something. Therefore, the largest possible working area is enormously important. You should definitely plan the working area to the left and right of the cooking area. Just when you have to quickly pull a boiling pot from the hearth, it can be very useful. The space between the hotplate and sink is the main work surface, and it could be within 80 to 120 cm. Also, think of some workspace next to the refrigerator.
Dishwasher is not near the sink
The dishwasher should always be placed close to the sink. So, when you begin the kitchen makeover do not try to put the dishwasher in a new place far from the sink. It is highly recommended to keep the cutlery, dishes, and glasses as close as possible to the dishwasher.
Insufficient sockets
In a kitchen, there must be a constant supply of electricity. From the automatic coffee machine to the kitchen machine, to the toaster, and the water boiler all needs electricity. It is really annoying if there are always too few electric sockets. So when you start a kitchen makeover, talk to your account adding some additional sockets. Optimum would be 10-14 sockets, which can be placed in a way that they hardly notice.
Insufficient solution for the garbage
Often the garbage is simply provided in a simple bucket under the sink. Today, there are extremely practical systems for the garbage, which can be provided at the planning stage. it is easily accessible and of course invisible. The clever solutions generally provide for three different areas, one for paper, one for bio-waste and one for residual waste. Typically, the garbage area placed near the work surface, which is mainly used for the preparation of food. And it has an automatic opening system for the doors which makes sense because the user hands usually are not free and not clean.
Kitchen remodeling ideas
We seek perfection in everything that surrounds you. And this means that in the interior of the kitchen everything should be just perfect – nothing superfluous, only functionalism and superiority of clear lines.
The appropriate kitchen shape according to the kitchen size
Which form is right for the kitchen? it depends primarily on the spatial conditions, but of course, the kitchen shape must also fit your needs. There are different forms and types, all of which have their advantages and disadvantages.
One-line
All kitchen elements are arranged on a wall in the one-line kitchen. It is particularly suitable for narrow spaces and is very space-saving.
Two-line
It is a classic solution for two opposing working and functional areas. Also, this form is ideal for rectangular rooms, in which windows or doors are located on the shorter room sides.
L-shape
This practical arrangement over the corner allows you to create a connected kitchen line for favorable working sequences. It is easy to install in rooms with several windows and doors and also to extend a kitchen island if there is sufficient space. Of course, it can also be a dining area instead of a cooking island.
Open kitchen with an island
It is ideal for large kitchens and open living areas. It has places for many people and of course enough space for cooking. Anyone could be very happy with this design and this arrangement of the dining, living and cooking area. you can also take a look at large kitchen island for more ideas
The color of the kitchen before and after
Bright colors as a basic tone ensure a fresh and homely feeling of space. In addition, you can make great effects with the help of bright patterns and accessories. However, you should be aware of the right color before painting the kitchen. Remember: kitchen walls which are painted or papered are much faster and are less time to consume than replacing the entire surfaces. In general, dark wall paints make light kitchens more prominent and walls in bright colors automatically act as eye-catchers in simple kitchens.
The right table for the kitchen before and after
When choosing the right kitchen table, it is especially important to choose size, material, shape, and color according to your personal preferences. Therefore, you should be aware in advance how many people use it daily, whether it should be expandable for the available space. Even the right height is a deciding factor, because especially people with long legs, prefer a higher dining table.
The light of kitchen before and after
There are many different kitchens some are bright and spacious, while others are rather dark. The problem will appear when the light is missing! Be sure to add more light sources. A combination of ceiling light, built-in spotlights, and cozy candles make your kitchen perfect.
Create storage space
If you want to enjoy the new look of your kitchen (before and after), you should pay particular attention to have enough storage space for dishes and pots. If you already have a fitted kitchen, open shelves are nice additions to closed cabinets. At the bar form, you have the possibility to customize the individual shelf to your kitchen. For example, you can fill unused corners with a practical corner shelf or separate your kitchen from the dining area with a nice divider and at the same time get useful storage space. A trolley is also very useful in your kitchen. It also serves as a workplace and of course as a storage area.
Finally
We hope that our tips for the kitchen before and after will give you the help that you are searching for.