Bathroom Lighting Ideas
You wanna know what's wrong with your bathroom lighting, you feel something missing but can't quite catch it. Not every standard bathroom lighting is an adequate lighting. Here are the bathroom lighting ideas that designers use to transform their bathrooms from pale and ordinary to bright and luxurious.
From the use of decorative walls, chandeliers, perimeter and recessed lights, those ideas are worth the try.
Decorative bathroom wall lights:
You need to light the bathroom vanity area with some excellent focused lighting. In this case, you need wall mounted lights which can be used on both sides of the mirror or above the mirror. Though lighting experts advised not to put any lights above the mirror (including recessed fixtures). Stating that it gives strong focus onto your forehead while adding shadows under your eyes nose & chin. Who wants that at first sight in the morning?
While you are confused whether or not to light the shower and tub area, YES YOU DO. And for that, you need two bathroom light fixtures on both sides of the tub.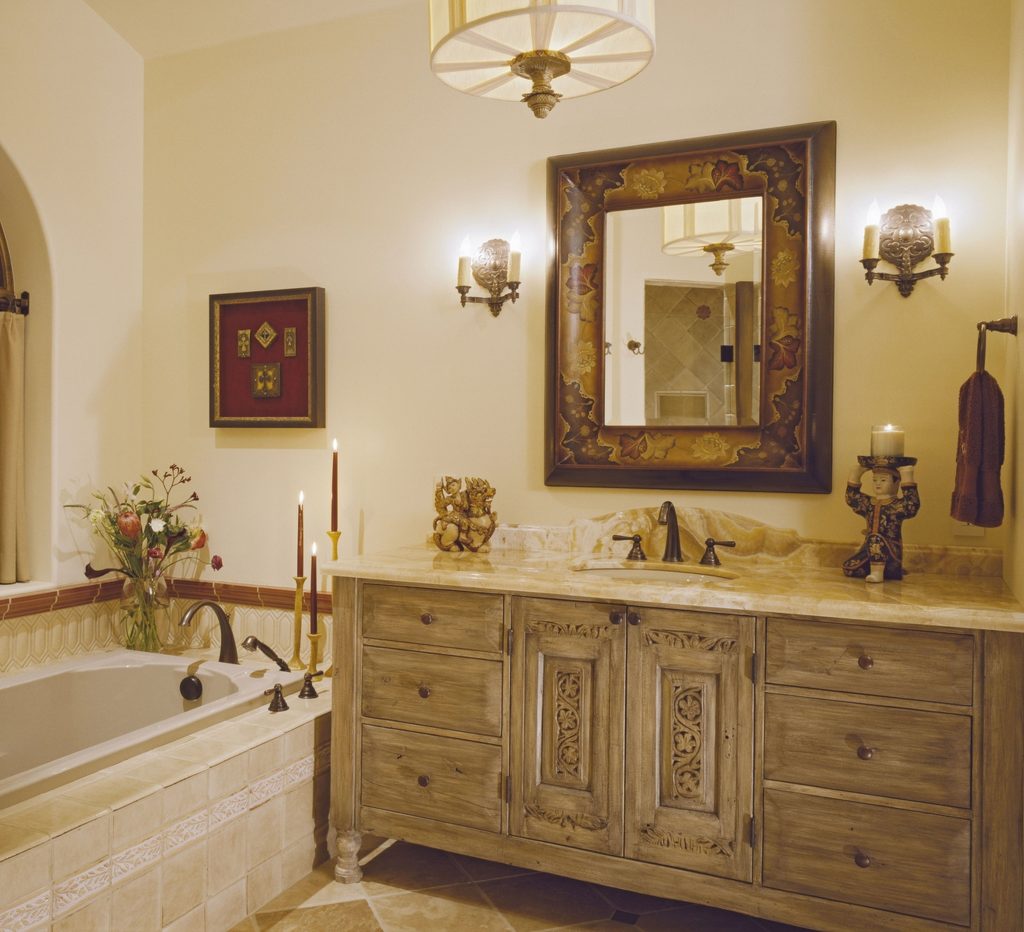 Bathroom lighting Chandeliers:
Looking for bathroom vanity lights, chandeliers can be very luxurious lighting and decorating option for every bathroom. Those babies will also help you bring a relaxing retreat to your space. Check the gorgeous chandeliers ideas below and tell me how you feel.
We often see chandeliers in large spaces like dining rooms or living rooms in a deluxe house which make 'em spread your rich personality elsewhere, even in bathrooms. This crystal-beauty chandelier is used with matching wall sconces. However, instead of all things expensive, you can think of light blue color as in the picture below.
If you thought about using pendant lighting or, you already have, you need to know that chandeliers are just pendant lights, only with branched fixtures.
bathroom light fixtures
Perimeter lights:
Perimeter lighting is not really beneficial if used alone. But it is a genuine choice if you like to add a sensual appearance to your bathroom with adequately bright bathroom lights.
Recessed lights:
recessed lighting is necessary overhead as a general lighting option. But it's only one part of the lighting plan. It adds function and style with a relaxing effect. recessed lights generate a quiet, relaxing atmosphere to the bathroom, especially when you want to take a relaxing bath. Use can light to highlight or illuminate the tub area and the mirror or spotlight an artwork.
Vanity Lights
Vanity lights are a wonderful lighting method. They work perfectly with ceiling lights. You can also use vanity lights as a task lighting besides the mirror. However, there are certain things to consider in the vanity lights plan.
As a beginning, you need to determine the suitable place for your bathroom vanity lights. At this case, it depends on the size of your bathroom mirror. The larger it is, the more it suits to mount your vanity lights on both sides. The smaller it is, the better it is to place them 36-40 inches apart from the bathroom mirror. This way, you give it a wider appearance. However, you should have the center of each bulb at eye level.
Bathroom lighting ideas for small bathrooms